Aam Aadmi Party targets Delhi Police over minor girl's death at police post, asks Rajnath Singh to fix responsibility
The ruling Aam Aadmi Party (AAP) said on Monday that the alleged suicide of a 17-year-old girl at a police post in West Delhi was a 'custodial death' and urged Home Minister Rajnath Singh to fix responsibility of Delhi Police officials
New Delhi: The ruling Aam Aadmi Party (AAP) said on Monday that the alleged suicide of a 17-year-old girl at a police post in West Delhi was a "custodial death" and urged Home Minister Rajnath Singh to fix responsibility of Delhi Police officials on duty there.
Delhi Police is "clearly at fault", senior AAP leader Atishi Marlena said, questioning why the minor girl was at the Tilak Vihar police post at 1.30 am in the night. "Purely a custodial death and Delhi Police and LG must own responsibility for it," she said at a press conference. The girl's mother was present at the press conference.
On Twitter, Chief Minister Arvind Kejriwal hit out at the ruling BJP at the Centre for the "deteriorating" law and order situation. "Law and order in the capital of India is deteriorating by the day. BJP has completely failed," he said. However, the Delhi Police, in a tweet, said "Law and order in National Capital is under control. The years 2018 & 2017 have seen reduction in Heinous Crimes as compared to earlier years. Similarly there is substantial reduction in Street crime & detection rate of heinous crimes has also improved."
The Delhi Police reports to the Union Home Ministry and the AAP government wants the department to come under it. Police said the girl committed suicide as she was afraid of her family members, who were against her friendship with a 21-year-old man. She had reached the police post (PP) around 2.30 am on 15 July, where both families were present, they said.
"It is clarified that the girl had come to police post on her own at around 2:30 am. At that time, her family members were also at the police post and continued to be in the police post until this unfortunate incident happened. "Enquiry by Learned Judicial Magistrate is on," Deputy Commissioner of Police (West) Vijay Kumar said on Twitter.
There is disparity in the police version and the AAP claim about the time the girl reached the police post. The girl told police that she did not want to be with her family as she was afraid. While police officials were planning to send her to a 'nari niketan', a relative of her male friend came there and alleged that he was beaten by the girl's family. Around 30 people were present there, according to police. While officials tried to pacify them, the girl locked herself inside the police post and hanged herself using her 'chunni'.
But the AAP legislator from Tilak Nagar, Jarnail Singh, claimed the girl and her brother were locked in separate rooms by police due to which she got "scared" and hanged herself. "Brother of the girl was threatened by the other party at the police post. She protested it after which police locked her up and her brother in separate rooms. Scared and anguished, she hanged herself," he said.
Singh said, "It is a complete failure and negligence of police. Home Minister Rajnath Singh need to fix responsibility in the incident."
Delhi AAP women's wing president Richa Pandey regretted that no concrete action has been taken against the police post in-charge. Police said a magisterial inquiry is under way and action will be taken after a report of the probe is submitted.
Yesterday, sub-inspector Parvesh Kaushik, in-charge of the Tilak Vihar outpost, and woman constable Manmohan Kaur were sent to district lines for alleged negligence of duty. Assistant sub-inspector Sushil Kumar, the investigating officer, and duty writer head constable K Badhoriya have been suspended.
Find latest and upcoming tech gadgets online on Tech2 Gadgets. Get technology news, gadgets reviews & ratings. Popular gadgets including laptop, tablet and mobile specifications, features, prices, comparison.
World
No one immediately took responsibility for the attack, but Iraq has seen assaults perpetrated by both the Islamic State group and other militia groups in recent months
Entertainment
Shivraj Singh Chouhan reacted to the controversy over the depiction of Hindu deities in Tandav, saying "no one has the right to hurt our faith and insult our deities".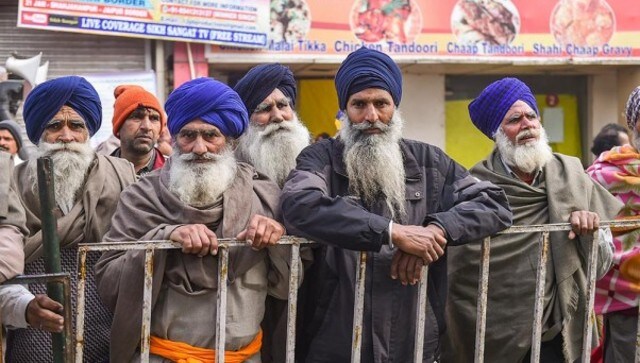 India
The tractor parades will start from the Ghazipur, Singhu and Tikri border points and details will be finalised on Saturday, farmer leader Abhimanyu Kohar said after attending a meeting with the police