The intrusive Aadhaar card, paperwork run-ins with govt, and a wart on a salamander's tongue
Sudeep Chakravarti recounts his experiences with government agencies, and most recently, the intrusive Aadhaar that has caught everyone by the hair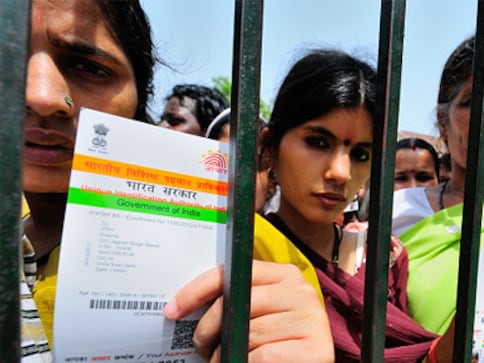 Do I hate the government? The jury is out on that one, but the sentence is long passed on my hatred of the government's undue process. My ongoing battle with Aadhaar has rekindled a vicious dislike for paperwork tigers who wish to order and reorder our lives and livelihood.
It leaves me little choice to offer up a curse, first employed several decades ago, during my first major paperwork confrontation with a government employee. May you be reborn as a wart on a salamander's tongue!
The pompous Indian Administrative Service officer was quite offended, and that was the point. I couldn't write a negative assessment of him to ruin his career; I couldn't fire him; or vote to have him kicked out of a position earned with an opponent's congenital weakness, and backed by a vicious and often vacuous army of lying trolls. There was reason for my dislike and it had nothing to do with him personally, but the government.
You see, the government got me married before the fact, and then wouldn't let me get married as I had already been married.
At the time my partner and I lived in an apartment in South Delhi. Those were the early years of what is today called 'Voter ID'. A middle-aged gentleman came by one weekend to enroll us for the process. For me provenance was quite simple. At 'S/o', he wrote my father's name. When it came to my partner and her insistence (and mine) for 'D/o', he switched off. He simply wouldn't write her father's name. He moved erringly to 'W/o', and wrote my name. Every effort to subsequently have the error corrected failed. The government would not accept that this lady wished to have 'W/o' correctly changed to 'D/o'. Moreover, we were told by various government officials that in their error lay our legitimisation.
Some years later we went to marry, after having duly filed an application with the court at Tis Hazari, using our Voter IDs as ID.
I received a summons from the ranking IAS officer 'in-charge' of marriages. He berated me for wasting the government's time. I told him why. He then berated me for trying to deceive the government. How would India ever progress if educated people like us lied to the government?
I told him of my fervent wish that he be reborn as a wart on a salamander's tongue.
Honest citizens, my partner and I approached a temple in Jangpura Extension. We weren't religious people, but she and I figured the only way to deal with the government was to employ God. It worked. We were finally, legally, correctly married. The government was happy too as everything was neatly reconciled. My partner and I had finally caught up with our early paperwork marriage; we had literally earned that phrase beloved of government: retrospective effect.
Several years later I had to renew my passport. By then we had moved from the National Capital Region to Goa. Everything went well, till I received a letter a couple of months later mentioning my application was held up. Upon enquiry at the local passport office, I was told that the number of one of the several passports issued to me earlier had also been issued to someone else, as it turned out, in London to an Indian lady.
I explained that the particular passport number issued to me in New Delhi had been done as an emergency measure as I had to accompany a prime minister of India as part of the media delegation, and the Ministry of External Affairs had correctly used its authority to issue me a perfectly legal passport — to bridge the gap between my expired passport and a new, long-duration one that could take a month or more to issue through ordinary channels.
The stand-in passport officer (the regular chap was 'on leave') looked at me as if I had committed a grave crime. I showed him all passports ever issued to me by the Government of India, all with perfectly legal entry and exit stamps, all perfectly, legally imprinted with official stamps of the passport issuing authority.
"Are you telling me that we don't know our job?" he said. "Go. We will get back to you," he added.
I told him that he ought to be reborn as a wart on a salamander's tongue, and stormed out as elegantly as I could.
As my effort to follow due process had come to nothing for several months, I gave up on being a citizen who generally refuses to use any influence, and follow undue process. This time I invoked that rare God of journalism, a well-known — and actually honest and thoroughly professional — television anchor. We had been colleagues during my time as an editor with a media house. I sent him a detailed email. He passed that on to a friend, who happened to be the boss of New Delhi's passport office.
Within a week I received a call from the passport officer in Goa, who sounded as if he would be delighted to caress my little toe with his (soon-to-be) salamander's tongue. Two days after that I had the brand new and perfectly legal passport in my hands — as perfectly legal as all my previous passports.
There is no real need for me to possess an Aadhaar card, issued by a firm that now resembles a firm of stormtroopers, the Unique Identification Authority of India. I don't need any subsidy from any government of India, central or in the states. I have a Voter ID — the same one — a PAN card, a passport and a driving license.
But the government wants that I absolutely must possess an Aadhaar card or else I should soon be illegal despite my several perfectly legal and perfectly adequate IDs issued for various purposes.
Of course it has not explained its own illegalities, such as insisting that I cannot pay my electricity bill without an Aadhaar card. This actually happened to me as far back as 2012 when Manohar Parrikar was the chief minister of Goa, and I went to pay the utility bill at the branch of a local cooperative bank in Moira village.
"Where your udder card?" the lady at the counter demanded.
"I don't have one," I replied.
"No-udder-card no bill-men," she pronounced.
I had to request my housekeeper, who had got herself such a card to benefit from several subsidies, to pay the bill on my behalf.
Later, I encountered a very close friend of Nandan Nilekani — the man behind it all — at dinner during the Jaipur Literature Festival in 2013. He laughed a little embarrassedly, and confessed Parrikar and Nilekani had been buddies from their days as students at the Indian Institute of Technology, Bombay. Belonging to different political parties would hardly come in their way. And now, with the government having adopted Aadhaar with ill-disguised fervour of the control-freak, such political lines have long since blurred. After strenuously resisting Aadhaar for several years, I may now be compelled to give in, be denied my rights to question the illegal activities of the government.
So, one Friday in May this year, I joined the queue at the local Aadhaar enrollment centre for North Goa in Mapusa. It is on the first floor of the large and busy district hospital, and it seems apt, as it is still unclear whether Aadhaar is a disease or partial cure or political prophylactic.
The queue was long. When I got to the door manned by an outsourced security fellow, I was told to arrive on a Saturday, as a 'token' was given out only on a Saturday. I showed up the next day, to be a given a token for the following Thursday. But I would be out of the country then — so another day perhaps? No. Go.
I didn't have the Hindi word for salamander. Besides, it wasn't his fault.
I returned to the same place, and familiar odours of rot, helplessness, and seemingly ineffective disinfectant, on 21 July, even though it was not a Saturday. The queue had gotten longer. Indeed, there were two queues, one for folks who had arrived for biometrics, and a longer one for those who had come to get errors in their Aadhaar card sorted out.
But they gave me a token for 11 August to complete my biometrics. There was simply no slot before that. I will have to break a travel schedule decided several weeks earlier in order to not be deemed illegal in my own country, even after possessing four legal, digitally recorded IDs of which three are also biometrically recorded.
Are they dumb? Can't one bit of artificial intelligence talk to another? If so many people are still queuing up when the Goa government has repeatedly claimed the highest enrollment numbers for Aadhaar, could this claim have by some chance been faked? Or, executed with a massive volume of error?
I don't know if I should wish Nilekani to be reborn as a wart on a salamander's tongue. He's a nice guy, a go-getter, bright. I like him. But Parrikar and his kind already have forked tongues. For them it wouldn't even be a leap of faith.
The author is an award-winning writer, columnist, and consultant to think-tanks and the media. He tweets @chakraview
Politics
Amid UP government's ongoing drive to verify the eligibility of ration cardholders, the Congress alleged that the BJP has tricked the poor into voting for this scheme during Assembly elections and now is withdrawing it
Politics
Desai was reacting to a statement made by his cabinet colleague Sudin Dhavalikar, who earlier said just as 'discovery' of a 'Shivling' in the Gyanvapi mosque complex in Varanasi during a court-mandated survey, similar findings are likely at religious places in Goa
India
The accused, Ravi Lamani, was arrested by a team of Pernem police on 10 May at Gadag in Karnataka