A year after Delhi gangrape: 'Nirbhaya' fund unspent, women still unsafe
The government had announced the Nirbhaya Fund for the safety and empowerment of women on budget day as a tribute to the 23-year-old victim of the Delhi gangrape. However, a year later, that symbolic fund still remains on paper alone. What has changed?
"Our tears have not dried. With each passing day, her memories get more intense. Someone is always crying at home." These are the words of the father of the 23-year-old paramedical intern, describing the pain and struggle her family has endured as it grapples with a the personal impact of a tragedy that tore into India, introducing street protests, new laws for sex offences, and a national debate on the safety of women.
Since the incident on 16 December last year, the braveheart's family remains in grief and anger. "We will never recover and she is very much alive within us," the 48-year-old father told PTI.
It's been a year since that fateful night, but has anything changed?
As part of a series of reactionary measures, the government, stunned by the level of public anger struggled to react, announced a Nirbhaya Fund for the safety and empowerment of women on budget day as a tribute to the 23-year-old victim. However, a year later, that symbolic fund still remains on paper alone. According to a Times of India report, the government is yet to shake off its lethargy and has not spent a rupee from the much-publicised Rs 1,000-crore fund.
In fact, a CNN-IBN report notes that officials are also clueless about the government schemes that will be covered under it and have no clarity on the structure of the fund. Though inter-ministerial consultations around the fund began in May, the ministries are yet to give their proposals.
But its not just an unspent fund that shows how little India has moved forward since the incident.
Despite the protests and strong demands to curb crime against women, nothing much seems to have changed on the ground. Although rape and sexual assault get a lot more prominence and the public attitude to such crimes have changed, actual violence against women hasn't reduced,
The stretch in Delhi, where the gangrape took place still wears a deserted look. Autos still refuse to take passengers, women are still unsafe on the roads and there are no signs of promises to deploy home guards and install GPS, CCTVs in buses, as well as increase PCR vans to a 1000.
The Delhi Police took a slew of steps like setting up helplines and women help desks at police stations to ensure women's safety but there is no let up in the crimes against them which have actually increased during the period.
And the effectiveness of these desks themselves are debatable.  They have often been found to be unmanned or worse, occupied by 'uninterested' female police personnel who treat complaints on a 'routine' basis. "We are in a phase of transition. Of course some lacunae do exist but that doesn't mean they can't be fixed in time," an officer told Hindustan Times.
The Times of India report notes, "Delhi Police data reveals that the number of rape cases have doubled from 642 in 2012 to 1,472 up to October, 2013. Molestation cases have increased from 612 in 2012 to 3,182 in 2013 while eve-teasing cases have increased from 125 last year to 850 this year."
"I still don't feel safe while travelling by public transport, auto drivers still refuse to go to certain destinations. I still haven't seen any PCR patrolling regularly in my area," Bhawna Tuteja, a working professional told CNN-IBN.
In a personal account of what women face in Delhi, Shweta Sharma writes in IANS about her friend who faced a harrowing time on last Christmas eve.
"...As many metro stations in the heart of the city were closed for security reasons, she managed to get an auto only after paying a hefty amount. But the auto driver dropped her mid-way on a desolate road. Pleading and even promises of more money did not help.
As there was not a soul on the road, my friend walked alone for kilometers - with a prayer on her lips. She could have become another case even as the world was protesting elsewhere. She said later that she was "just plain lucky."
Another of Shweta's friends was forced to drive at reckless speed when two men tried to force themselves into her car outside a popular shopping mall. "Only I know how I managed to escape," is what she said later, scared to death by the experience.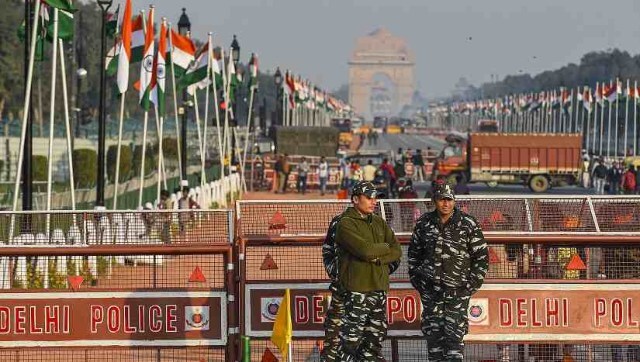 India
According to the advisory, Republic Day parade rehearsals will be held on Rajpath on 17, 18, 20 and 21 January from Vijay Chowk to India Gate
India
The bomb scare comes just days after an improvised explosive device (IED) stuffed with RDX was found inside an unattended bag at Delhi's Ghazipur flower market
India
As of November 2020, 36 countries had still not criminalised marital rape. Pakistan, Bangladesh, Afghanistan, Botswana, Iran, Nigeria and Libya are nations where like India, it is not a crime to rape a wife.