A 24.21 percent conviction rate for rape in India, lower every year
As the country waits for the verdict of the December 16 Delhi gangrape to be announced today, the fact of the matter remains that rape convictions, as well as the downward trend that they display, do not strike a comforting note for both the survivors of these attacks, as well as a public increasingly restless for justice.
As the country waits for the verdict of the December 16 Delhi gangrape to be announced today, the fact remains that rape convictions in India, as well as the downward trend they display, do not strike a comforting note for both, the survivors of these attacks as well as a public increasingly restless for justice.
The government announced in February of this year that the conviction rates of rape cases in the year show a declining trend. However, according to the National Crime Records Bureau (NCRB) records, the number of rape cases being reported in the period of 2009-2011 have increased.
The conviction rates were 44.3 percent in 1973, 37.7 percent in 1983, 26.9 percent in 2009, 26.6 percent in 2010 and 26.4 percent in 2011.
A 'Rape Map of India' drawn up by the Wall Street Journal broke down the number of rapes according to the region of the country, as well as the differing rates of conviction in each of them. Delhi's conviction rate is estimated at 41.5 percent, Maharashtra at 20.3 per cent and Uttar Pradesh at 56.4 percent.
As the publication points out: "India is far from unique in its overall conviction rate, which many activists deplore as low." According to government statistics, only 5.7 percent of rapes officially recorded by police in England and Wales end in a conviction.
Firstpost editor Praveen Swami had written on the same topic for this website, urging readers to look beyond an outrage-driven debate. On the 24.21 percent rape conviction rate in India, Swami wrote:
That is precisely what our outrage is worth: 24.21 percent, the culmination of a decade-on-decade decline. It's likely got something to do with under-resourced police and a broken criminal justice system — but also makes clear laws don't mean justice.
Swami points out that certain data is needed for a methodical approach to preventing rape which is not available to us.
For there to be progress in India, we need to know where rape happens, who the perpetrators are and how they chose their victims - Indian government data doesn't give us this kind of information.  The cases reported to police — which are almost certainly very different to the real incidence of rape — suggest Bharat is more dangerous than India: of 24,923 cases in 2012, just 3,035 were in major cities.  They suggest the typical perpetrator is known to the victim, and that they're not mostly feral juveniles, crazed by hormones or bad upbringing. The data doesn't even tell us how many gang-rapes there are, and whether streets or homes are the most dangerous places for women.
As to why the conviction rates remain low, theories differ but mostly boil down to a failure of the legal system. "Reluctance of victims to open up before the courts and the police is a major factor for the low conviction rate in rape cases. The hostility of the system is another reason. The system as a whole needs to be sensitised towards rape victims," said senior advocate Aman Lekhi to India Today. Speaking to the same publication, criminal lawyer KK Manan blamed the police'€™s "aimless probing and inefficient Forensic Science Laboratory reports" for delaying the extraction of medical evidence, which also hinders the conviction process.
Other experts have even pointed out that a low conviction rate might be spurring on sexual offenders to be more confident, and carry out even more attacks. "The main problem is that, due to the abysmal conviction rates, there is no fear of law among criminals. A recent example of this was the sexual assault on a Spanish expatriate in the city. The accused there was out on bail for 10 different crimes involving break-ins," said activist Jeetendra Ghadge to the Times of India.
Observers believe that given the high profile nature of this case, and the resultant care taken during the investigation and trial, may have ensured an adequately argued prosecution case. But even then, it will remain a small victory.
Find latest and upcoming tech gadgets online on Tech2 Gadgets. Get technology news, gadgets reviews & ratings. Popular gadgets including laptop, tablet and mobile specifications, features, prices, comparison.
Entertainment
The FIR was lodged on the basis of a complaint by a woman who claimed she was in a relationship with Mahaakshay from 2015 to 2018 during which time she was drugged, raped and forced into having an abortion.
Politics
The BJP attacked Rahul Gandhi and Priyanka Gandhi Vadra of being selective in cases of atrocities against women and questioned their 'silence' over the alleged rape and killing of a six-year-old girl in Punjab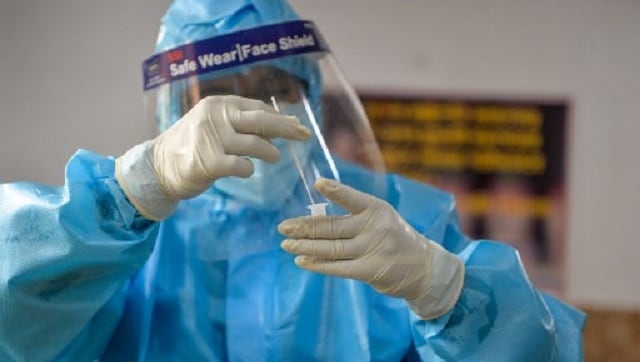 India
In the last 24 hours, 58 percent of the fresh COVID-19 deaths in the country were reported from Maharashtra, West Bengal, Delhi, Chhattisgarh and Karnataka