Earthquake jolts east India, tremors felt in Guwahati, Kolkata and NCR
An earthquake measuring 6.9 on the Richter Scale hit Myanmar, after which shocks were felt in parts of eastern India as well.
An earthquake measuring 6.8 on the Richter scale that hit the Myanmar-India border region shook several parts of northeastern India, as also West Bengal, Bihar, Jharkhand and even Delhi and the National Capital Region (NCR). Many people were injured in Bengal and Manipur, officials said.
The quake was felt at 7.25 p.m. and occured at a depth of 134 km below the earth's surface. It snapped communication -- mobile and landline connectivity -- for a while in some parts and caused damage to some buildings in cities like Guwahati in Assam.
People busy shopping for the Bengali New Year at malls in Kolkata ran out to the streets, driven by fear and panic even as multi-storeyed buildings emptied out quickly as residents rushed down to the streets.
The Kolkata Metro Railway services were temporarily halted.
At least 10-12 people suffered minor injuries in north Bengal. While some of them fell on the stairs in their mad rush to come out of buildings, a few others tripped while running on the streets.
Four-five people were injured in the north Bengal town of Siliguri in Darjeeling district. At least seven others sustained injuries in nearby Jalpaiguri district.
Some of the injured were taken to hospital in Siliguri and sent home after first aid.
At least six people were injured in Manipur when the earthquake shook the state, officials said. The injured were rushed to hospitals, but are said to be out of danger. Hospital sources said their condition was stable.
The head offices of the State Bank of India and BSNL in Imphal suffered some damage. The new secretariat as well as the police station buildings in Lamphel area were also partially damaged.
"There is no report of major damage in Tripura, Mizoram, southern Assam and adjoining areas yet. Only some cracks developed in some buildings in Assam, Manipur and Mizoram adjoining Myanmar," disaster management coordinator Sarat Das told IANS at Agartala.
Jolts were felt in Delhi and the National Capital Region, Bihar, Odisha, Uttar Pradesh, Madhya Pradesh and Chhattisgarh.
"I was sitting in my office when I felt the tremors around 7.40 p.m. We immediately came out of the building. The tremors lasted for a few seconds," Alok Kumar Kaushik, who works at a bank in north Delhi, said.
Mild tremors were also felt in Mayur Vihar in east Delhi and neighbouring Noida, causing the people to come out of their homes.
The tremors from the quake were felt in Bangladesh as well.
The US Geological Survey put the magnitude on the Richter scale at 6.9 and said the epicentre lay 74 km southeast of Mawlaik in Myanmar.
In Patna, hundreds of people rushed out of their houses and gathered in open spaces. In April last year, a massive earthquake rocked major parts of Bihar, in which 19 people were killed. The epicentre of that earthquake measuring 7.3 on the Richter scale was in Kodari, Nepal.
Tremors shook Assam's main city Guwahati and adjoining areas causing minor damage to some high-rise buildings while the Assam State Disaster Management Authority said no major damage had been reported so far.
The northeastern states -- Assam, Meghalaya, Mizoram, Tripura, Nagaland, Arunachal Pradesh and Manipur -- are considered by seismologists as the sixth major earthquake-prone belt in the world.
On 10 April, a major earthquake jolted parts of Afghanistan, Pakistan and India, in which two people were killed and 10 injured in Pakistan.
In Pakistan, officials had said the earthquake measured 7.1 on the Richter scale hit parts of the country's northern and eastern regions.
On April 10 too, in India, the authorities said the magnitude of tremor was at 6.8.
The tremors on Sunday were also felt all across northern India, including Jammu and Kashmir, Himachal Pradesh, Rajasthan, Haryana, Punjab, Chandigarh, Delhi and Uttar Pradesh.
India
Three fire tenders pressed into service to douse the blaze, which started from the kitchen of the Mughlai restaurant
Photos
Every year, different pandals in Kolkata come up with unique ideas that attract people from all over. From a library to the farmers' agitation, here are a few interesting ones that are worth the visit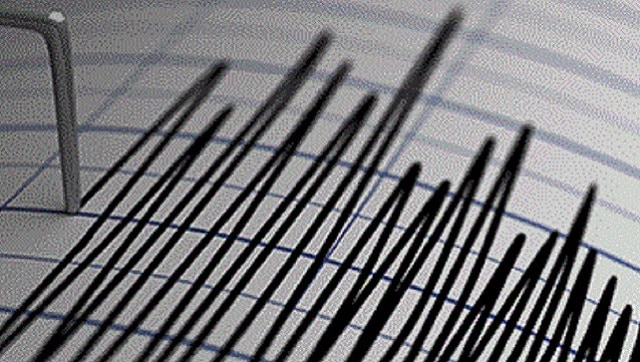 World
The US Geological Survey says the first quake struck about 17 miles south of Naalehu and the second earthquake struck about 20 minutes later in the same area