52% of Young India thinks a woman's place is in the kitchen, shows survey
India's youth is growing up to be alarmingly more gender biased. According to a recent study carried out in 11 major cities of India guess what we scored the lowest on... surprise, surprise gender equality.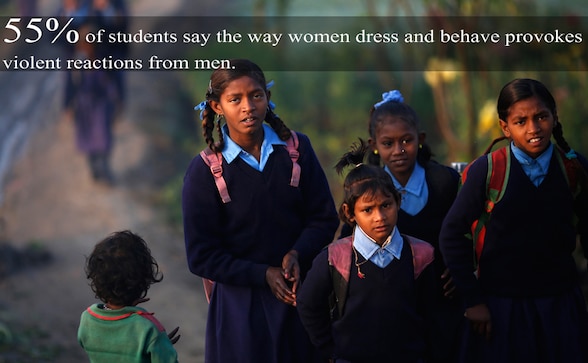 While India's Prime Minister talks about educating the girl child for 'development' of India, and even as the government decides to put in Rs 1,000 crore every year for the Nirbhaya fund that was created after the Delhi gangrape incident for ensuring the safety of women, , the country's youth are far from progressive.  According to a recent study carried out in 11 major cities of India, guess what we scored the lowest on? Surprise, surprise! Gender equality.
The study, Yuva Nagarik Meter, shows widespread universality of gender biased attitudes and negative stereotypes in the youth of urban India, which has  alarmingly also shown fascist tendencies, believing in the virtue of having just one political party and in military rule in the country.
Sadly, majority of the people in the study, 39% of girls and 43% of boys, agreed that women have no choice but to accept a certain degree of violence. So essentially, do India's next gen believe women should  tolerate violence at home? Well if that's the case then we're in for a very violent future indeed. And this is just the tip of the iceberg.
Here's a look at some of the things the Indian youth believe in:
Womens clothes provoke violent behaviour in men
Of course, more than half of the 10,000 plus people that took part in the study agreed that it's the clothes and the woman that is to blame for violence against them. Yeah, you read that right. So sadly, according to 55% women and 59% men, whether a woman wear jeans or a sari, her clothing is to blame if a man chooses to manhandle her.
Women have no choice but to accept violence
In a time where India is brimming with stories of rapes- from three year old babies, to professionals in their mid thirties, this is probably the most shocking of all the findings. A whopping 43% of the men are under the impression that well, tough luck women, you had that coming, now suck it up and accept it.
A woman's place is in the kitchen
Women! Put down your briefcases and pick up a belan! In another shocking discovery, and a sexist one at that, a woman's place is obviously behind the stove and tending to her children. As a consolation, 71% agreed that women can do just as well or maybe even better than men professionally. Of course it's not like India's women want to have a career and a professional life apart from tending to the whims of their husbands and children.
 Women should "accept" dowry as a practice
Yes, 36% girls and 44% boys agree that women should accept to being a part of a business deal when agreeing to get married. So it's okay for women to be haggled over. No not one car, please ensure the groom's family get a car, microwave, kitchen refurbished and 10 kilos of gold if she wants to be a part of this family.
Boys and girls from different religions should NOT meet in public
India's youth is  not pro-inter-religious mingling at all. Shockingly, 65% of the students in the survey are under the impression that  boys and girls belonging to different religions should not befriend each other or interact .
also read
Sports
According to a press release issued by the Ministry of Youth Affairs and Sports, the Tokyo Olympic champion intends to train at Kuortane Olympic Training Centre in Finland during this time.
India
"I will go to Manipur soon and stay there for three days but before that, both groups should remove mistrust and suspicion among themselves and ensure that peace is restored in the state," he said
Hockey
The Indian women started their Junior Asia Cup sojourn with a morale-boosting 22-0 crushing of a lowly Uzbekistan