2012 Delhi gangrape case verdict: Celebrations can be put on hold for now, women still aren't safe in this country
It was a day of victory for India when the Supreme Court awarded a well-deserved death sentence to the four convicts who brutally raped, mutilated and murdered 23-year-old Jyoti Singh.
It was a day of victory for India when the Supreme Court awarded a well-deserved death sentence to the four convicts who brutally raped, mutilated and murdered 23-year-old Jyoti Singh.
The landmark verdict, the second of its kind in India's recent history after the Shakti Mills gangrape case, provided retribution not just to the rape victim but also to her long-suffering parents whose ordeal was unparalleled, to her friend from that fateful night who didn't abandon her in life and after, and to all the selfless activists, lawyers, citizens, and NGOs who've fought hard over the last four years to ensure justice.
In legal opinion, this case was declared the rarest of rare. In public opinion it was the most brutal of crimes. In my opinion the criminals deserve the harshest of punishments.
The diabolical nature of the rape leaves no doubt in my mind that the convicts deserve nothing less than death for the unending barbarism they unleashed on Jyoti that on that dark, cold December night.
The death sentence sends a strong message—that enough is enough—to rapists and perpetrators of sexual violence. It demonstrates that India can protect its sisters, daughters and mothers in a dignified and fair manner.
While we must take a moment to celebrate this historic judgment, we cannot afford to rest on our laurels. We must not forget that this is just the beginning of a long and arduous journey to bring justice, equality and safety to all the women in our country. Here are ten aspects that we need to examine:
1.  What of the juveline?

Yes, Mukesh Singh, Vinay Sharma, Akshay Thakur and Pawan Gupta have been given the death penalty. The other accused, Ram Singh, brother of Mukesh Singh, killed himself while in custody. Five of the six criminals have been meted out what they deserved, but what about the sixth rapist, juvenile Mohammed Afroz?
He served a paltry three-year sentence in a remand home. He is now staying in a charity house (paid by taxpayers, mind you) for 'security' reasons. The irony is that he inflicted the wounds on Jyoti that most likely led to her death. If he is old enough to commit a crime of such epic proportions, isn't he old enough to be punished for the crime? Why spare him when justice can be complete only when he too is suitably punished?
2. Rectify the legal system
India does not suffer from a lack of laws but the implementation of these laws (case in point: the Posco Act). We need to reform the penal code. We need to enable suitable and swift action, like in Mahmood Farooqui's case. We need to use fast track courts. We need more effective laws, an increased rate of conviction, and more stringent punishment. Currently, in India, there is only one judge for every one lakh people. This statistic needs to change. Urgently. More so, the investigation agency, prosecuting agency and police need to be separated in every case, while ensuring that their loyalty is only to the law of the land.
3. Utilise the Nirbhaya fund
The Rs 3,000-crore Nirbhaya Fund has yet to be put to use. So far, as per media reports, only a part of the fund has been utilised and its implementation is deeply wanting. We need to set up the proposed women police volunteers in every police station, who have been trained to deal sensitively with victims of sexual violence.
Helplines and panic buttons in mobile phones need to be installed. So far, only 79 of the proposed One stop centres are operational. Under the scheme, these Sakhi centres are supposed to provide free medical, legal, police and psychiatrist aid to women who are victims of domestic violence, rape, dowry and any other horrific crimes.
4. Swift punishment in other such cases
Stricter punishments have to be doled out to rapists involved in horrific cases like Rohtak, Jisha, Bilkis Bano, among many others. The Jyoti Singh case has set a precedent which must be followed through for all rape cases.
5. Change in societal attitude
We need to realise that it is not men but gender inequality that is the disease in this country. Rape, trafficking, dowry deaths and domestic violence are the symptoms of this disease. Our culture is such that girls are killed at birth, sweets are distributed only when boys are born, boys are given better food and education, and girls are sold like slaves through arranged marriages. This mindset needs to change urgently and drastically.
We need to introduce gender sensitivity in schools. We have to not only teach girls how to be safe but also teach boys to respect women. We need to address male behaviour. We need to unplug the cultural message that makes women the repositories of shame in matters of sexual violence. Affirmative action needs to be taken by mothers and fathers in raising their sons.
6. Take preventative measures
All schemes to help women in distress are aimed at what happens after the crime is committed. What about preventing crimes?
7. Amend the anti-rape bill
While it is great that, under this bill, the definition of rape has been widened, the age of consent has moved from 16 to 18 years, and culprits are subject to life sentence, this bill is severely lacking. First, it requires proving offense beyond a reasonable doubt. Second, it gives benefit of doubt to the accused. It also qualifies 'serious rape' as deserving of 20 years imprisonment, and 'heinous rape' as deserving of life. Who quantifies rape? There is nothing like 'good rape' and 'bad rape'. Rape is rape, and should be dealt with strictly, no matter what the severity.
8. Amend juvenile justice act
In purview of Point 1, it is time we reduced the age of a juvenile criminal from 18 years to 15 years. If you do the crime, you do the time. That should be the rationale.
9. No more making excuses for men
When Mulayam Singh Yadav says 'boys will be boys', when Abu Azmi says 'women should be hanged for getting raped', or ML Sharma says 'there is no place for women in our culture', they should be punished. We cannot have men in the public eye condone rape, indemnify rapists and debase women. We cannot let men trivialise crimes against women. We have to remove this sense of entitlement that men have over women's bodies and lives.
10. Let's not celebrate just yet
Let's remember: There are still two more rounds of litigation open to the convicts. One is a review petition and the other is a curative petition, though there's only a slender chance of the death penalty changing with either. As a last recourse, the president has the power to revoke the verdict by granting a mercy petition, which we can only hope – given public opinion and his sensible history in this matter – he doesn't.
Despite these caveats, let's take a moment to reflect on this momentous verdict. For many of us, especially women, I can safely say that we've never been prouder to be Indian.
Meghna Pant is the multiple award-winning author of The Trouble With Women (Juggernaut, 2016), Happy Birthday (Random House, 2013) and One & A Half Wife (Westland, 2012). She is a feminist promoting gender equality through her curated talks, events, articles and online chat shows. You can follow her on Twitter @MeghnaPant.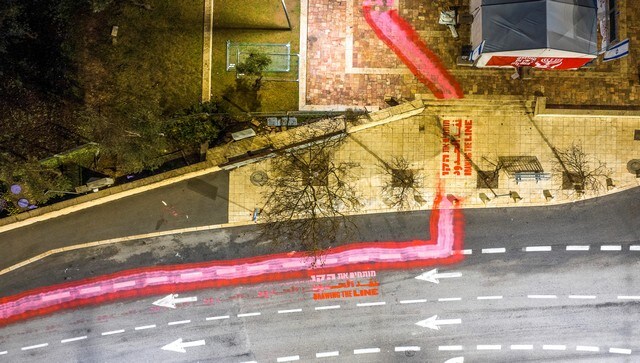 World
Drone footage showed a small group of people in protective suits spraying a wide red stripe along mostly deserted roads leading from a police and magistrate's compound up to the Supreme Court in central Jerusalem
World
Ukrainian authorities allege that the corrupt government of pro-Russian Ukrainian President Viktor Yanukovych borrowed the money from Moscow under pressure before he was ousted in protests in February 2014, shortly before Russia illegally annexed Ukraine's Crimea peninsula
World
The case could lead to the Supreme Court's first-ever intervention in the hot-button issue of trans girls and women in sports