The new threesome: Boy, girl and camera
In the age of Ragini MMS, Big Brother is not just watching. He is in bed with you and he wants to go viral.
They don't know it yet— it's a threesome. The tagline for the new horror-sex flick Ragini MMS is about the ghost who gets involved in the young couple's haunted house sexcapade. But the  real third party in this ménage-a-trois is not supernatural, it's technological. The camera, whether it's a security camera, a webcam or your cell phone, is the new Big Brother. He is not just watching. Nowadays he's right there in bed with you. And he does not want just sex with you, he wants to share the encounter with the whole world. He wants to go viral, and we are not talking about STDs.
Ragini MMS is "inspired" by the Delhi MMS scandal from a few years ago.  Earlier this year two JNU students were implicated in their own MMS sex clip shot in the college hostel. That didn't make quite the same splash as that first one which made front page news for weeks. But the sordid story of the two-minute grainy video of the teenaged schoolgirl stumbling through oral sex with her classmate really caught fire when a college student decided to auction it off on Baazee.com and the police went after its CEO Avnish Bajaj, a US citizen. That caused an IT storm.
At that time Neelanjana Banerjee wrote on Pacific News Service "For all the hoopla surrounding the 17-year-old cell-phone auteur, the horny money-grubbing IIT student, Bajaj, and the anxious IT moghuls, I was left wondering: What about the girl?"
Yes, what about the girl?
Once upon a time the babe-in-Bollywood script went like this. A naïve young smalltown girl lands up on the mean streets of Mumbai, falls into the clutches of a conman, is promised a bit part in a Bollywood movie or an ad campaign, shows up at the lecherous producer's house to find him in a dressing gown with an open bottle of Vat 69… you know how the rest goes.
Technology has rendered that story completely passé. Now even a haunted house in the middle of the woods is not safe from the voyeuristic third eye. The victim does not even realize she's a victim anymore until she shows up on her friends' MMS clips.
A recent exhibit called Exposed: Voyeurism, Surveillance and the Camera since 1870 uncomfortably explored how we have become a culture of "invasive looking." Detective cameras were marketed in the 19th century as harmless toys hidden in tie pins, canes, peeking out of the heel of a man's shoe. Then in 1928 Tom Howard became an international sensation when he strapped a camera to his ankle while watching the electrocution of Ruth Snyder. That camera had only one plate. Howard depressed the shutter release hidden inside his jacket as the electricity surged through Snyder's body. The photograph was published next day under the banner headline DEAD!.
In the 21st century that photographer with his concealed camera does not have to work quite so hard. He doesn't even have to conceal his camera anymore because it's in his cell phone or pen video or spy cam. Technology has, in a sense, not just facilitated voyeurism. It's given it a certain cool. This is no longer about the dirty old man in raincoat in a porno theater in the middle of the day.  It's not quite so grubby and seedy and down market when you are watching it on your ultra cool Android phone or shiny Mac Air.
We trust technology – and to our peril. A friend recently found that out the hard way. She got a Skype invitation in the middle of the day from an old friend. The old friend seemed more than a little drunk and kept begging her to join her on webcam to watch another couple, foreign tourists, have sex. It sounded like the high school-ish girlie mischief – no actual sex involved, just watching it from the safety of your own home.
Her friend kept saying she was having problems with her webcam and then suddenly went offline. The still-invisible couple said "No matter, why don't YOU take your clothes off?" My friend logged off in a hurry. When she texted the old friend, she had no idea what she was talking about. Both realised they'd been part of a webcam scam.
Once identity theft was about trying to weasel you out of money, out of your credit card number. That's just small change these days. The real prize now is about getting you – or your friends -- out of your clothes. That's what gets you the real bragging rights in the anonymous faceless world we call the "Internet community."
Dibakar Banerjee adroitly took on what is happening to us in his 2010 film Love, Sex Aur Dhokha. The security camera, installed to protect the store and the customers, becomes a tool for violation instead. That violation reached its horrifying real life apex last year when Rutgers University student Dharun Ravi secretly turned the webcam on his gay roommate Tyler Clementi. Ravi was just having fun in a world where sexuality has become a public sport and privacy is only a Facebook option. Clementi, aghast at how his date with another man, was streamed out into the world, jumped off the George Washington Bridge. Dharun Ravi has been charged with a hate crime.
It is easy to blame Dharun Ravi or Ragini's sleazy thoku master boyfriend or even the camera. But the question is what about the rest of us? The ones who watch. We live in fear of a surveillance society not realising how readily we are complicit in it. It's not the government watching every move we make. That was 1984. This is 2011. Now we do it to each other. As Chanda, the character based on the unwitting star of that infamous MMS in Anurag Kashyap's Dev D said "Half the country got off on that clip. They downloaded it. And they turn around and call me the slut."
Ekta Kapoor promises there will be a sequel to Ragini MMS. This time it will be in 3D.
Find latest and upcoming tech gadgets online on Tech2 Gadgets. Get technology news, gadgets reviews & ratings. Popular gadgets including laptop, tablet and mobile specifications, features, prices, comparison.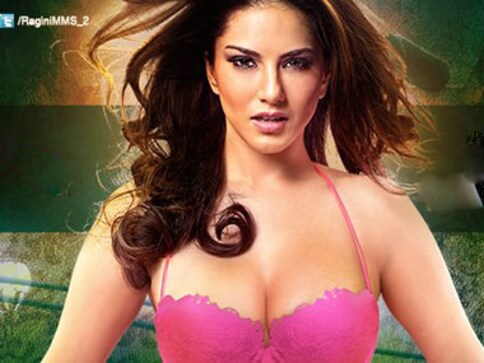 Blogs
Watching Ragini MMS 2 feels like being caned and then ordered by your teacher to kneel down on the floor, because you made the mistake of giving money to the first movie.
Entertainment
Karishma Sharma and Siddharth Gupta star in Ragini MMS Returns, a sequel to Rajkummar Rao's 2011 erotic-horror film Ragini MMS. It will air on ALT Balaji.
Entertainment
The 50 second teaser of Ragini MMS Returns treads on the same path of horror and erotica. The full trailer will be released on 14 September.