Coronavirus Outbreak: Govt launches COVID-19 tracking app 'Aarogya Setu', here's all you need to know
The app calculates a person's interaction with others, using Bluetooth technology, algorithms, and AI.
The Government of India has launched a mobile app, Aarogya Setu, to enable people to themselves assess the risk of being infected by coronavirus
.
The app, which works on both Android and iOS, will calculate a person's interaction with others, using Bluetooth technology, algorithms, and artificial intelligence.
Once a person installs the app on a smartphone, it will detect other devices with Aarogya Setu installed in the proximity.
"The app can then calculate the risk of infection based on sophisticated parameters if any of these contacts tested positive," said a release by the government.
Aarogya Setu will also enable the government to take necessary and timely steps for assessing the risk of spread of coronavirus
and ensuring isolation where required.
The release further said that the design of the app ensures "privacy-first". "The personal data collected by the app is encrypted using state-of-the-art technology and stays secure on the phone till it is needed for facilitating medical intervention," it said.
The description of Aarogya Setu on the Google Play Store states that the app is aimed at augmenting the initiatives of the Government of India, particularly the Department of Health, in proactively reaching out to and informing users regarding risks, best practices and relevant advisories pertaining to the containment of COVID-19
.
Aarogya Setu app is available in 11 languages.
The app has been developed by the National Informatics Centre (NIC), which comes under the Ministry of Electronics and Information Technology.
India
Coronavirus News Updates: There are 14,751 active COVID-19 cases in Mumbai, while the total number of recoveries has increased to 6,88,340, the BMC said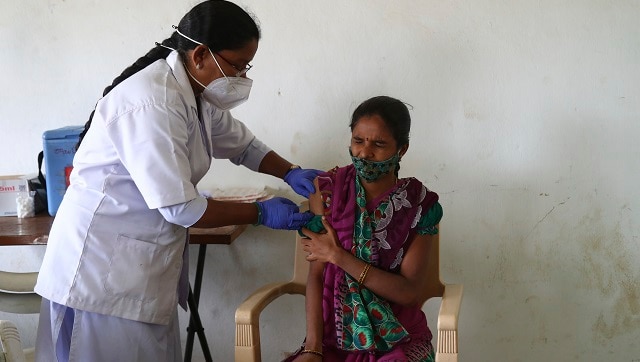 India
Coronavirus LIVE News Updates: As per the 7 pm provisional report, more than 48 lakh vaccine doses administered on Tuesday, the ministry said
India
AIIMS director Dr Randeep Guleria cautioned that the next wave can strike the country in the next six to eight weeks if COVID-appropriate behaviour is not followed