5 science-backed home remedies for persistent hair fall
It's natural to lose 50-100 hair strands every day. But if you feel your hair fall is much more than that, then maybe the issue needs some extra attention.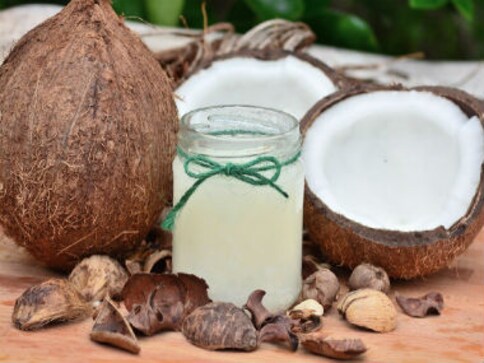 Have you been noticing way too many strands of hair on your pillow, stuck to your sweater, in the drain as well as your hairbrush? Well, it's natural to lose 50-100 hair strands every day. But if you feel your hair fall is much more than that, then maybe the issue needs some extra attention. 
Human hair essentially undergoes three stages of the hair cycle: the anagen, catagen, and telogen phases. During the anagen phase, hair continues to grow followed by a transitional period (where no change takes place) of the catagen phase. Telogen phase starts when the hair releases from the follicle and falls off. This cyclical loss is completely normal - one usually still has more than enough hair remaining. 
Other factors such as hormones, nutritional intake, exposure to radiations, environmental toxicants, and medications, may affect the hair cycle and may cause abnormal hair loss.
Here are a few home remedies that may help reduce hair loss: 
1. Coconut oil
Coconut has lauric acid in it, which has a high affinity for the hair protein. It penetrates the hair shaft thus protecting it from breaking at the root and strand. Massaging coconut oil into the scalp may even promote better blood flow and help with regrowth.
You may massage your hair with coconut oil for 15-20 minutes, up to twice a week.
2. Aloe vera
Aloe vera has long been used for treating hair loss. It helps clean up sebum, an oil that clogs follicles and prevents hair from growing back. It also soothes the itchy scalp seen in case of seborrheic dermatitis (an inflammatory skin condition).
To effectively use this natural hair loss treatment, simply massage pure aloe vera gel directly along your scalp. Wash your hair after 30 minutes. You may apply aloe vera gel onto your scalp 3 times a week.
3. Fish oil
Fish oil helps in promoting hair growth by increasing the growth of dermal papilla cells, which reside under the hair follicles and influence new hair follicle development from the epidermis (uppermost layer of the skin).
Fish oil also contains omega-3, an antioxidant, which helps in making the hair dense.
Mix fish oil along with olive oil and massage your scalp with it for 15 mins. Rinse after one hour. You may massage your hair with this oil twice a week.
4. Ginseng
Studies claim that ginseng promotes hair growth by stimulating the dermal papilla cells to make new hair follicles. It further induces the anagen (hair growing phase) phase and delays the other two phases.
Studies state that red ginseng extract protects from hair fall caused by hormonal imbalance.
Mix ginseng oil with some carrier oil or any essential oil and massage the scalp for at least 15 minutes. Wash your hair after one hour. You may do the massage twice a week.
5. Liquorice (mulethi)
In a recent study, liquorice, commonly known as mulethi, was powdered and made into a paste. Then it was combined with sodium lauryl ether sulphate, sodium chloride, methylparaben and a few other ingredients to formulate a herbal shampoo. The results concluded that liquorice shampoo had excellent cleansing ability and viscosity. 
Liquorice shampoo has anti-microbial properties and it reduced hair problems like hair fall, itching and dandruff.
Make a paste of liquorice and add it in your regular shampoo to wash your hair. You may use this shampoo twice or thrice a week.
For more information, please read our article on Hair Loss: Symptoms, Causes, Treatment. 
Health articles in Firstpost are written by myUpchar.com, India's first and biggest resource for verified medical information. At myUpchar, researchers and journalists work with doctors to bring you information on all things health.
Fwire
Drug firm Dr Reddy's Laboratories today said it has launched it's generic Finasteride tablets used for treating male pattern hair loss in the American market.
Life
The shift in lifestyle and changes in the environment are eroding our once-proud manes, and has many of us running to the nearest hair loss clinic or homeopath.
science
Some people refuse to use DEET and turn to folk remedies or plant-based repellents.