Yen pinned down by intervention talk, commodity currencies better bid | Reuters
SYDNEY The yen stayed on the defensive early on Wednesday, following two sessions of steep declines after Japanese officials stepped up their warning about intervening to weaken the currency. The dollar climbed as far as 109.38 yen JPY= , pulling further away from an 18-month trough of 105.55 set last week
SYDNEY The yen stayed on the defensive early on Wednesday, following two sessions of steep declines after Japanese officials stepped up their warning about intervening to weaken the currency.
The dollar climbed as far as 109.38 yen JPY=, pulling further away from an 18-month trough of 105.55 set last week. The euro traded at 124.21 yen EURJPY=R, having bounced off a three-year trough of 121.48 plumbed on Friday.
Both currencies have recovered about half the losses suffered since late April when the Bank of Japan held off from expanding monetary stimulus, touching off a rally in the yen.
The unwelcome currency strength prompted a string of Japanese officials to warn about taking action, the latest being Koichi Hamada, a key economic adviser to Prime Minister Shinzo Abe.
Hamada said on Tuesday Japan will intervene in foreign exchange markets if the yen strengthens to 90-95 per dollar, even if that upsets the United States.
"Yesterday's comments from Japanese officials hinting at possible FX intervention to weaken the JPY, combined with the lift in European and U.S. equity markets have undermined JPY," noted Elias Haddad, currency strategist at Commonwealth Bank.
While the yen has been hogging much of the limelight, the dollar has been making somewhat of a comeback as the market eased back on bearish positions.
The dollar index .DXY was at two-week highs of 94.257, off a 15-month trough of 91.919 set on May 3.
Dovish comments from core Federal Reserve members, however, are still keeping the dollar on a leash.
Commodity currencies enjoyed a reprieve overnight thanks in part to a rebound in oil prices. The Canadian dollar was at C$1.2914 per USD CAD=D4, recovering from a one-month low of C$1.3016.
The Australian dollar drifted up to $0.7373 AUD=D4 from two-month lows of $0.7300. Faring even better, its kiwi peer briefly popped above 68 U.S. cents NZD=D4, climbing well away from a recent low of $0.6717.
Markets had sold the kiwi on Tuesday on speculation the Reserve Bank of New Zealand (RBNZ) would introduce new measures to curb Auckland's housing market. When the RBNZ held off from that course on Wednesday investors were quick to unwind those moves.
There is little in the way of market-moving data out of Asia on Wednesday, leaving the major currencies likely to consolidate.
This story has not been edited by Firstpost staff and is generated by auto-feed.
Sports
The emperor, who took the throne in 2019, is the honorary patron of the Tokyo Olympics.
Sports
Japan's massive security apparatus has raised complaints that the nation, during the weeks of the Games, will look more like authoritarian North Korea or China than one of the world's most powerful, vibrant democracies.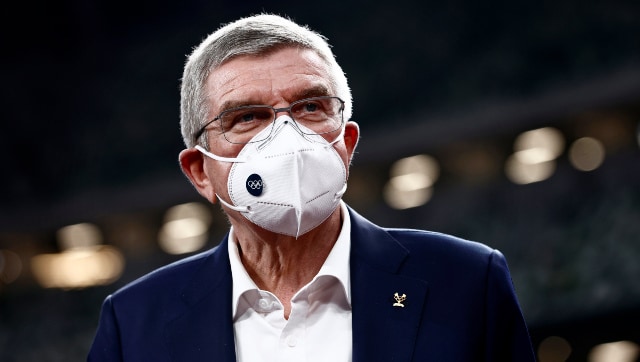 Sports
Bach, who has faced scattered protests since arriving in Japan, appealed to the public to throw their support behind the athletes despite fears of a spike in cases as thousands of international visitors arrive.