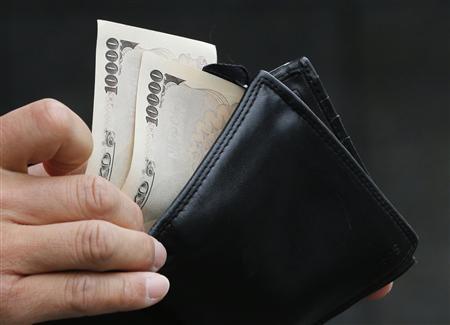 NEW YORK (Reuters) - The yen fell against the euro and dollar on Friday on expectations Group of 20 finance leaders this weekend will avoid targeting Japan over policies that have weakened its currency, while oil prices sank on signs of lagging economic activity.
Wall Street retreated from initial gains to turn lower as the strength of this year's stock rally, up more than 6 percent,
injected a cautious tone.
Equities slid further after Wal-Mart Stores Inc (WMT.N) shares fell on a Bloomberg report quoting a mid-level executive's email that said the world's largest retailer had the worst sales start to a month in seven years in February.
Data on Friday underscored the still-bumpy road to economic recovery. The New York Federal Reserve reported an expansion in manufacturing in New York state, and a survey showed a surprisingly strong rise in U.S. consumer sentiment in February.
On the downside, U.S. industrial production unexpectedly dipped in January, spurring concerns about economic activity.
Oil prices sank, with Brent futures heading for their first weekly loss since mid-January.
The yen tumbled on a draft communique prepared for G20 finance leaders at their meeting that begins later on Friday in Moscow. The draft omits part of this week's Group of Seven statement declaring fiscal and monetary policy may only be used for domestic economic aims, a G20 delegate said.
"The yen has reversed early gains and is now the weakest major currency on reports the language of the G20 statement may differ from that of the G7 countries," said Nick Bennenbroek, head of currency strategy at Wells Fargo in New York.
"The G20 is expected to urge members to avoid competitive devaluation, but not echo the G7 view that exchange rates should not be a target of policy," he said.
The United States is acting in line with the position of the G7 nations by using domestic policy tools to boost growth and reduce unemployment, Federal Reserve Chairman Ben Bernanke said.
The euro last traded up 0.5 percent at 124.70 yen, after earlier falling to 122.87 yen, its lowest since January 30. It hit a 34-month high of around 127.71 last week.
The yen rallied earlier this week on expectations officials would express disapproval of Japan's policy.
A rise in U.S. consumer sentiment, according to The Thomson Reuters/University of Michigan index, initially drove gains in U.S. and European markets, before they reversed.
The preliminary reading on the overall index of consumer sentiment rose to 76.3 from 73.8 in January, topping economists' forecasts of 74.8.
A measure of global equity activity, MSCI's all-country world index, traded down 0.43 percent at 354.78.
In Europe the FTSEurofirst 300 closed down 0.2 percent at 1,161.39, levels seen at the start of January.
The Dow Jones industrial average was down 56.12 points, or 0.40 percent, at 13,917.27. The Standard & Poor's 500 Index was down 6.79 points, or 0.45 percent, at 1,514.59. The Nasdaq Composite Index was down 13.55 points, or 0.42 percent, at 3,185.10.
The benchmark S&P 500 is facing strong technical resistance near the 1,525 level. But investors, expecting further advances in the quarter, have held back from locking in profits and kept stocks from tumbling.
The S&P was on track to register its seventh straight week of gains by the close, a feat not seen since a run of consecutive weekly gains that ended in January 2011, but a late afternoon swoon likely dashed that possibility.
A surge in merger and acquisition activity, with more than $158 billion in deals announced in the first 45 days of the year, had supported the equity market as it indicates healthy valuations and a bright economic outlook.
"You don't go into M&A if you don't have a positive outlook," said Art Hogan, managing director of Lazard Capital Markets in New York.
In commodities markets, Brent futures for April delivery tumbled to a low of $116.28 per barrel, down $1.72, before recovering slightly to $117.04.
U.S. crude shed $1.45 to settle at $95.86 a barrel. For the week, it eked out a gain of 14 cents.
Industrial production slipped 0.1 percent after a revised 0.4 percent gain in December. Economists had been expecting a modest increase in industrial output in January.
"We gave (U.S.) oil many chances to get above $98 and test $100 a barrel. And it becomes a situation where we can't rally, so we sell it," said Richard Ilczyszyn, chief market strategist at iitrader.com LLC in Chicago.
The benchmark 10-year U.S. Treasury note was down 3/32 in price to yield 2.0069 percent.
GRAPHICS
U.S. consumer sentiment: link.reuters.com/xub84t
Asset returns in 2013: link.reuters.com/dub25t
Euro zone GDP comparison: link.reuters.com/nyh28s
U.S/Japan balance sheets: link.reuters.com/sah55t
(Additional reporting by Richard Hubbard in London; Editing by Chizu Nomiyama, Nick Zieminski, Leslie Adler and Andrew Hay)
Updated Date: Feb 16, 2013 02:45 AM