Yeddyurappa confirms resignation on Sunday
Bangalore: Aiming to arrest all speculations about his resignation, Chief Minister B S Yeddyurappa today issued a signed release stating that he would resign on Sunday in a clear indication he is falling in line with the party's directive.
In the statement that was read out to the media outside the Chief Minister's residence by loyalist Minister Basavaraj Bommai, Yeddyurappa said he had already issued a statement on Thursday that he would tender his resignation on 31 July following the decision of the party's parliamentary board and instruction from BJP central leaders.
But, he said, despite the statement, "even now, some media are misleading the public that I am not resigning".
"I, hereby, again clarify that I am submitting my resignation on the afternoon of 31-3-2011", he said.
Asked if Yeddyurappa's demands were accepted by the party high-command, Water Resources Minister Bommai said the Chief Minister had a closed-door meeting with BJP top leaders Arun Jaitley and Rajnath Singh and he does not know what transpired between them.
"..but certainly talks are going on in right way...positive way. Every thing will be solved", Bommai said in his comments, which are seen as softening of his stand by the Chief Minister.
Significantly, a section of ministers and MLAs loyal to Yeddyurappa who were believed to have refused to meet the central leaders to give their opinion on the succession issue earlier in the day, have now changed their mind.
The Chief Minister's camp had claimed the support of 74 MLAs on Friday, a number which is believed to have dwindled.
Home and Transport Minister R Ashoka, identified in "anti-Yeddyurappa" camp, told reporters earlier today: "Those who were there (the Chief Minister's camp) yesterday, have come here. You have seen them".
PTI
Find latest and upcoming tech gadgets online on Tech2 Gadgets. Get technology news, gadgets reviews & ratings. Popular gadgets including laptop, tablet and mobile specifications, features, prices, comparison.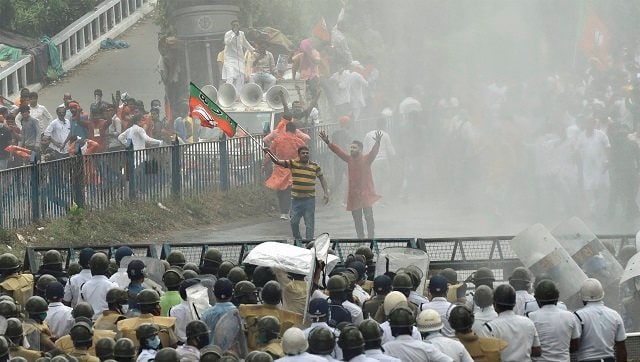 Politics
Protesters stormed barricades, hurled stones and set tyres ablaze during the march called by the party's youth wing BYJM. Police claimed that it recovered a loaded pistol from one of the agitators.
India
One of the MLAs alleged that "poor leadership and misrule" by Chief Minister Biplab Kumar Deb have "ruined" the party's perception
India
According to the Kanker MP, if a CBI investigation is ordered into the Dhanora case, similar incidents will be unearthed in 'every four or five villages' of Bastar