WTO rules against tax break for Boeing 777X jet | Reuters
By Tim Hepher and Tom Miles | GENEVA GENEVA The World Trade Organization (WTO) ruled on Monday a tax break from Washington state to help Boeing develop its new 777X jetliner was a prohibited subsidy, in a setback for the U.S. planemaker as it eyes victory in a parallel case against Airbus.The WTO said the subsidy came in the form of a renewed cut in Washington state's main business tax for aerospace agreed in 2013, when Boeing was considering where to base assembly of the latest member of its long-haul jet family.It rejected a complaint by the European Union against six further tax measures.It is the third swathe of public support for Boeing or its European rival Airbus criticised by the WTO in a record transatlantic trade dispute dating back 12 years, and involving mutual accusations of tens of billions of dollars of aid.The ruling, which can be appealed by either side, comes as the United States ponders potential sanctions against the EU over earlier rulings against Airbus.The WTO did not give a value for the banned aid, but the European Union estimated it at $5.7 billion out of an $8.7 billion package of tax measures in Washington, where most of Boeing's factories are based.Airbus said the measures had cost it $50 billion in sales. Boeing said the aid in question would only kick in from 2020 and would be worth $50 million a year, a fraction of the total amount at stake in the world's largest trade dispute.Reuters reported last week that the WTO was expected within days to find at least one strand of banned support for Boeing.On paper, the latest ruling is a step backwards for the United States because the WTO had earlier ruled a previous generation of tax breaks had fallen into a weaker category of subsidies, which the Geneva watchdog treats less harshly than 'prohibited' aid By Tim Hepher and Tom Miles
| GENEVA
GENEVA The World Trade Organization (WTO) ruled on Monday a tax break from Washington state to help Boeing develop its new 777X jetliner was a prohibited subsidy, in a setback for the U.S. planemaker as it eyes victory in a parallel case against Airbus.The WTO said the subsidy came in the form of a renewed cut in Washington state's main business tax for aerospace agreed in 2013, when Boeing was considering where to base assembly of the latest member of its long-haul jet family.It rejected a complaint by the European Union against six further tax measures.It is the third swathe of public support for Boeing or its European rival Airbus criticised by the WTO in a record transatlantic trade dispute dating back 12 years, and involving mutual accusations of tens of billions of dollars of aid.The ruling, which can be appealed by either side, comes as the United States ponders potential sanctions against the EU over earlier rulings against Airbus.The WTO did not give a value for the banned aid, but the European Union estimated it at $5.7 billion out of an $8.7 billion package of tax measures in Washington, where most of Boeing's factories are based.Airbus said the measures had cost it $50 billion in sales.
Boeing said the aid in question would only kick in from 2020 and would be worth $50 million a year, a fraction of the total amount at stake in the world's largest trade dispute.Reuters reported last week that the WTO was expected within days to find at least one strand of banned support for Boeing.On paper, the latest ruling is a step backwards for the United States because the WTO had earlier ruled a previous generation of tax breaks had fallen into a weaker category of subsidies, which the Geneva watchdog treats less harshly than "prohibited" aid.
Under WTO rules, subsidies that are explicitly tied to exports or, in this case, the use of local content are prohibited and must be withdrawn "without delay". The two sides are certain to clash over whether that means actual repayment.European officials argue Boeing fell into a prohibited subsidy trap of its own making when state lawmakers insisted on locking Boeing into Washington more rigidly than before, after Boeing accepted earlier tax breaks only to move work elsewhere. In 2013, Washington lawmakers extended the tax breaks from 2024 to 2040 but said they would end support for any new version of jet if its body or wings were assembled outside the state.Seizing on previous U.S. statements that Airbus subsidies once deemed prohibited - but later watered down on appeal - should be paid back to taxpayers, European sources said Boeing would now have to forego billions of dollars in aid.
They also zeroed in on "program accounting" methods used by Boeing, which they said had already allowed it to factor in future support for the 777X even before money had been received. Under the same system, Boeing would now have to adjust its accounts to reflect risks resulting from the WTO finding, they argued, in what would be the first direct impact of the marathon case on investors.Boeing officials and lawyers played down the prospect of having to repay money, however.They said they were confident the ruling would be overturned on appeal and insisted the tax breaks were dwarfed by $22 billion in subsidised loans by European governments to Airbus, adding these could spark U.S. retaliation within a year. (Reporting by Tim Hepher and Tom Miles; Editing by Mark Potter)
This story has not been edited by Firstpost staff and is generated by auto-feed.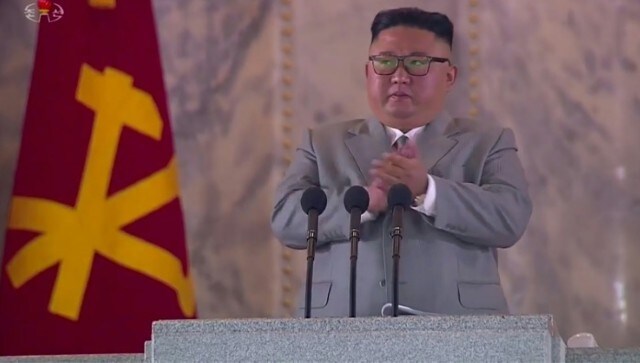 World
Kim also accused South Korea of hypocrisy because it criticises North Korea's weapons development as provocations while spending heavily to increase its own military capabilities
World
Their comments came as Iran has hinted it's ready to return to indirect negotiations with the US in Vienna but has not committed to a date
World
"Love is in the Bin" is being offered by Sotheby's in London, with a presale estimate of $5.5 million to $8.2 million