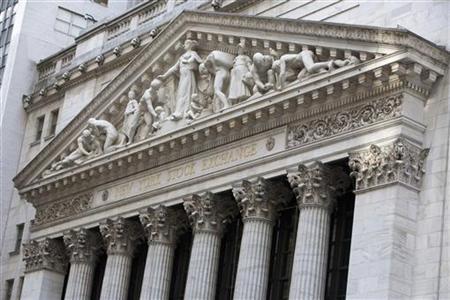 LONDON/NEW YORK (Reuters) - Global stocks edged lower along with the euro on Friday as the White House and U.S. lawmakers planned to make a late effort to avoid the U.S. "fiscal cliff."
Elsewhere, expectations that Japan will inject new stimulus into its economy pushed the yen to a two-year low for a third day.
President Barack Obama and Democratic and Republican lawmakers were scheduled to meet on Friday as the deadline looms for reaching a deal on the budget to avert massive tax increases and spending cuts which could drag the economy into recession - and others around the world along with it.
The participants in the 3 p.m. session (2000 GMT) will attempt to smooth over sharp differences over raises taxes on higher-income Americans and spending cuts in politically sensitive social welfare programs such as Medicare and Medicaid.
The MSCI all-world share index .MIWD00000PUS was down 0.2 percent, while U.S. stocks opened lower.
The Dow Jones industrial average .DJI was down 71.88 points, or 0.55 percent, at 13,024.43. The Standard & Poor's 500 Index .SPX was down 8.24 points, or 0.58 percent, at 1,409.86. The Nasdaq Composite Index .IXIC was down 15.22 points, or 0.51 percent, at 2,970.68.
The pan-European FTSEurofirst 300 .FTEU3 was down 0.5 percent and was on track for a small weekly loss.
Going over the fiscal cliff - allowing $600 billion of higher taxes and lower spending cuts to start coming into force in January - would prevent U.S. debt spilling beyond a $16.4 trillion agreed limit. However, analysts fear that such measures could wipe as much as 4 percent off the country's growth rate, if left unchecked.
"Obviously all eyes will be on Washington and the headlines coming out of Washington will dictate today's market movement," said Peter Cardillo, chief market economist at Rockwell Global Capital in New York.
"The big thing is whether Washington will reach a deal by Monday."
EURO FALLS, YEN HITS LOW
The euro was down 0.2 percent on the day at $1.3210, having slipped to a session low of $1.3164 when traders said it broke below stop loss sell orders around $1.3170.
An agreement on the U.S. budget would be viewed as positive for riskier currencies such as the euro and Australian dollar, while a deadlock or snags in fiscal negotiations to avoid a fiscal cliff is deemed positive for the safe-haven and highly liquid dollar.
The yen's unabated slide since Shinzo Abe took the helm as Japan's prime minister on Wednesday has hit fresh two-year lows for three straight days. Abe has vowed to press for aggressive monetary stimulus to fight deflation.
The dollar was steady against the yen at 86.07 yen, edging away from an earlier peak of 86.64 yen, its strongest since August 2010, when it stopped just shy of reported options barriers at 86.75 yen and 87.00 yen.
In the U.S. bond market, benchmark Treasuries yields dropped to their lowest levels in two weeks as concerns that the economy would be harmed by tax hikes and spending cuts and a fall in consumer confidence spurred demand for safe-haven bonds.
Benchmark 10-year notes rose 8/32 in price, with yields falling to 1.71 percent, down from 1.73 percent on Thursday and from a two-month high of 1.85 percent a week and a half ago.
EMERGING MARKETS
Despite the tensions over the U.S. budget talks, the mood in financial markets has been improving in recent weeks. Data from emerging economies have shown signs of a pick-up while analysts are hopeful that Europe may also soon bottom out.
Fresh signs that China's economy is improving pushed growth-attuned copper prices as high as $7,955 a tonne, on track for the biggest weekly rise in a month.
A Reuters poll showed economists think China's factory activity probably expanded at its fastest pace in eight months in December.
(Additional reporting by Gertrude Chavez-Dreyfuss and Chuck Mikolajczak in New York and Lewa Pardomuan in London; Editing by Giles Elgood, David Stamp and Kenneth Barry)
Updated Date: Dec 28, 2012 23:31 PM