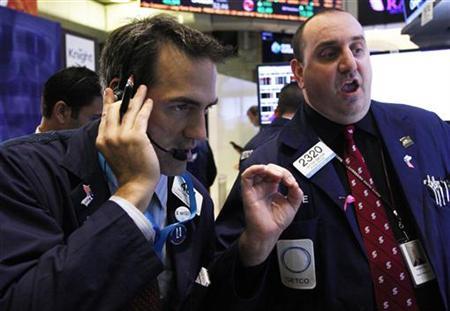 NEW YORK (Reuters) - Global stocks rose and the euro hit a one-month high on Wednesday, helped by brighter prospects for resolving Spain's debt woes, but disappointing quarterly earnings from Intel Corp (INTC.O) and IBM (IBM.N) weighed on U.S. equity markets.
U.S. and German government debt prices fell after Spain avoided a damaging ratings downgrade from Moody's and stronger-than-expected U.S. housing data pointed to an improving economy, which reduced safe-haven demand.
Growing speculation that Spain will ask for a bailout next month lifted the euro. A possible line of credit to Spain and some easing of German opposition to aid for Greece and Spain were also likely to support the euro in the near term.
Wall Street opened mixed, with the Dow pulled lower by Intel and IBM. But the Nasdaq rebounded to climb higher, building on the best two-day advance for U.S. stocks in a month.
Intel slumped 1.9 percent to $21.92 while IBM lost 3.8 percent to $203.05. Both were among the biggest drags on the Dow and Nasdaq 100.
"These are some fairly big disappointments, and while we think we'll see better results out of tech, it's clear the market doesn't think we'll see much growth in names like Intel or IBM," said Richard Sichel, who oversees $1.8 billion as chief investment officer at Philadelphia Trust Co.
The Dow Jones industrial average was down 9.31 points, or 0.07 percent, at 13,542.47. The Standard & Poor's 500 Index was up 4.45 points, or 0.31 percent, at 1,459.37. The Nasdaq Composite Index was up 3.28 points, or 0.11 percent, at 3,104.46.
MSCI's all-country world equity index rose 0.7 percent to 337.82, extending Tuesday's 1.2 percent gain. The FTSE Eurofirst 300 index of top European shares gained just 0.4 percent to 1,117.77.
European shares rose for a third consecutive session after Spain clung to its top grade credit rating, bolstering expectations the euro debt crisis can be contained.
"Spain is in a better place for now," said Richard Robinson, a fund manager at Ashburton who recently bought shares of Spanish bank Bankinter (BKT.MC) and Italian bank Intesa (ISP.MI) on prospects of improved euro zone economic problems.
The euro was up 0.5 percent at $1.3117, its highest since mid-September.
Bond losses accelerated after data showed that groundbreaking on new U.S. homes surged in September to its fastest pace in more than four years, another sign that the housing sector's budding recovery is gaining traction.
"The housing starts and permits are both up a ton. The market was already selling off, it started overnight with Moody's affirming Spain's investment grade rating," said James Newman, head of Treasuries and Agency trading at Keefe, Bruyette and Woods in New York.
Benchmark 10-year notes fell 18/32 in price to yield 1.79 percent.
Brent crude futures fell further and U.S. crude turned lower in choppy trading after a report from the Energy Information Administration showed U.S. crude oil stocks rose more than consensus expectations last week.
December Brent fell 95 cents to $113.05 a barrel. U.S. oil for November gained 49 cents to $92.60.
(Additional reporting by Richard Hubbard in London; Editing by Dan Grebler)
Updated Date: Oct 17, 2012 23:01 PM