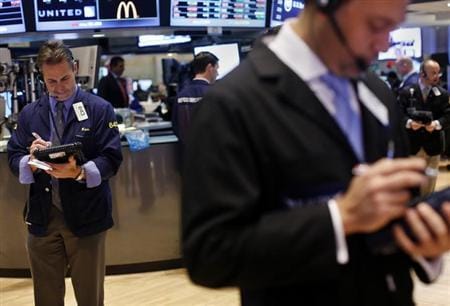 NEW YORK (Reuters) - Strong economic data buoyed global equity markets on Friday, lifting the Nasdaq to a 12-year closing high and the S&P 500 to a five-year high, while the yen soared after Japan's finance minister said its recent drop had gone too far, too fast.
Brent crude oil rose to a nine-month high near $119 a barrel and copper prices advanced for the first time in four days as robust Chinese data boosted the outlook for commodities demand.
Data showing stronger international trade in China and Germany, and a report indicating the U.S. trade deficit had narrowed in December, pointed to improving global growth prospects.
"That may have sent a ray of optimism," said Fred Dickson, chief market strategist at D.A. Davidson & Co in Lake Oswego, Oregon.
MSCI's all-country world equity index rose 0.5 percent to 355.67, while shares in Europe rebounded 1.2 percent after a fall on Thursday wiped out the year's gains.
U.S. stocks closed higher. The benchmark S&P 500, up more than 6 percent for the year, posted six straight weeks of gains for the first time since August.
The Dow Jones industrial average ended up 48.92 points, or 0.35 percent, at 13,992.97. The Standard & Poor's 500 Index .SPX closed up 8.54 points, or 0.57 percent, at 1,517.93. The Nasdaq Composite Index gained 28.74 points, or 0.91 percent, to 3,193.87.
But an advance has been tougher in recent days as investors await incentives to drive the index further upward.
"The rally is definitely slowing down. We might see a record but we do need a bit of correction before going there," said Randy Frederick, director of trading and derivatives at Charles Schwab. "We've been in this 1,516 level (for the S&P 500) for the sixth straight session and need to break above to really move higher."
The yen, which fell to the lowest against the euro since April 2010 and the lowest against the dollar since May 2010 on Wednesday, got a boost from Finance Minister Taro Aso's comments that the currency's slide from 78 to 90 per dollar was steeper than intended.
Doubts also rose on whether the next governor of the Bank of Japan will ease policy aggressively after a Reuters report said Japanese Prime Minister Shinzo Abe faces opposition from within his own cabinet and financial bureaucrats to appoint a new BoJ governor who will pursue aggressive easing policies.
The dollar fell 1 percent to 92.69 yen. The euro lost 1.2 percent to 123.90 yen, and against the dollar, the euro slipped 0.2 percent to $1.3364.
Comments from European Central Bank chief Mario Draghi on Thursday that the exchange rate is important for growth and price stability were perceived by investors as a sign the bank is concerned about the euro's recent advance and weighed on the currency.
"Central bank and government officials from around the world have given FX markets the gift of volatility this year," said Win Thin, senior currency strategist at Brown Brothers Harriman in New York.
"Yesterday, it was ECB President Draghi's second press conference in a row that caught markets by surprise. Today, it was Japan Finance Minister Aso's turn, as he apparently told reporters that the recent pace of yen weakness has been too fast."
The benchmark 10-year U.S. Treasury note erased early losses to trade little changed, the yield at 1.96 percent as many traders squared positions before heading home as a blizzard moved into the northeastern United States.
Brent gained $1.66 to settle at $118.90 a barrel, but U.S. crude futures fell 11 cents to settle $95.72.
Three-month copper on the London Metal Exchange was $8,245 a tonne after hitting a session high of $8,253.
Gold fell 0.2 percent to $1,668.11 an ounce as gains in U.S. equities and encouraging international trade data dented safe-haven demand.
(Additional reporting by Chuck Mikolajczak; Editing by Dan Grebler and Chizu Nomiyama)
Updated Date: Feb 09, 2013 04:15 AM