With Tata patriarch back as pilot, likely tailwind for airline ventures | Reuters
By Aditi Shah and Tommy Wilkes | NEW DELHI NEW DELHI As family patriarch Ratan Tata takes back the controls at his Indian conglomerate after a boardroom coup this week, one sector is cheering his, albeit interim, return: the group's airline ventures, both lagging competitors in India's cutthroat market.Industry executives and analysts say they expect loss-making Vistara and AirAsia India, both part-owned by Tata, to enjoy fresh cash and expansion plans as low fuel prices and Indian government policy drive a boom in air travel.'Now he's back, we'll see him taking aggressive steps,' said Mark D Martin, chief executive at Martin Consulting, adding this could include growing other ventures such as Taj Air, a charter company also owned by the Tata group.Vistara and AirAsia India declined to comment. Tata Sons, the parent controlling Tata's listed businesses, has said Ratan Tata's return from retirement is temporary, and denied the move would mean any extra focus on the airlines - other than for business reasons. 'Both businesses are completely focused on enhancing their market positions,' a spokesman said.But analysts say the move will have a longer-term impact, with the family reasserting its influence in day-to-day operations.Tata agreed to invest an estimated $60 million into the two airlines when they launched, mostly into Vistara
By Aditi Shah and Tommy Wilkes
| NEW DELHI
NEW DELHI As family patriarch Ratan Tata takes back the controls at his Indian conglomerate after a boardroom coup this week, one sector is cheering his, albeit interim, return: the group's airline ventures, both lagging competitors in India's cutthroat market.Industry executives and analysts say they expect loss-making Vistara and AirAsia India, both part-owned by Tata, to enjoy fresh cash and expansion plans as low fuel prices and Indian government policy drive a boom in air travel."Now he's back, we'll see him taking aggressive steps," said Mark D Martin, chief executive at Martin Consulting, adding this could include growing other ventures such as Taj Air, a charter company also owned by the Tata group.Vistara and AirAsia India declined to comment. Tata Sons, the parent controlling Tata's listed businesses, has said Ratan Tata's return from retirement is temporary, and denied the move would mean any extra focus on the airlines - other than for business reasons. "Both businesses are completely focused on enhancing their market positions," a spokesman said.But analysts say the move will have a longer-term impact, with the family reasserting its influence in day-to-day operations.Tata agreed to invest an estimated $60 million into the two airlines when they launched, mostly into Vistara. The two airlines have a combined India market share of around 5 percent - dwarfed by more established carriers like InterGlobe Aviation's budget airline IndiGo.
AT ODDS
The Tata family has a long history with aviation.Ratan Tata's predecessor was India's first qualified pilot, and Tata's first airline was later nationalised as state carrier Air India. Ratan Tata, insiders said, fulfilled a long-held dream when he pulled the group back into the aviation sector in 2013.Ousted chairman Cyrus Mistry, who replaced Tata in 2012, was less keen, however.In a leaked letter to the Tata board earlier this week, Mistry said he had opposed Tata's 2013 partnership with Malaysia's AirAsia Bhd to launch AirAsia India.
More than a year later, Tata started a second airline, Vistara, in partnership with Singapore Airlines."Tata Sons took a considered view that it makes business sense to take part in India's civil aviation industry," a spokesman for Tata Sons said.Mistry's blistering letter portrayed Ratan Tata, 78, as a man who cast aside his advice and bulldozed through major decisions. Mistry considered the airlines to be proof that he had his hands tied as chairman, illustrating just how Tata still pulled the strings even after retiring."It is on his advice that the Tata Sons board has increased the capital infusion in the (aviation) sector at multiple levels of the initial commitment," Mistry wrote.Tata has not detailed its most recent capital infusion, but media reports have said it increased its stake in AirAsia India over time to 49 percent from 30 percent for an undisclosed sum.
In Vistara, 51 percent-owned by Tata, media reported last month Tata approved injecting an additional $37 million alongside Singapore Airlines, which would bring the total equity by the joint-owners to around $150 million.EMOTIONAL TIES
Whoever's in charge, turning a profit in India's competitive environment will be tough. Analysts say two years is too short: budget airlines could take up to five years and full service carriers up to seven years to be profitable. Vistara has already had to revise its strategy, which initially sought to target business travellers, and AirAsia India has seen several senior management changes since it launched in 2014, and experts have queried its strategy.Airline analysts and consultants said they expect Tata to strengthen the group's market foothold, for example, by expanding its partnership with Metro Jets, a provider of business aviation services including charters and maintenance."For Ratan Tata, it's an emotional issue," said Harsh Vardhan, head of Starair Consulting. "The Tatas think they pioneered aviation in the country, and again have a role to play." (Reporting by Aditi Shah and Tommy Wilkes; Editing by Clara Ferreira-Marques and Ian Geoghegan)
This story has not been edited by Firstpost staff and is generated by auto-feed.
Business
Sensex increased by 568.90 points to end at 61,305.95 while Nifty ended at 18,337.90 after gaining 176.15 points.
India
The killings have spread panic among non-local labourers, at the time when most of them would work in apple orchards and as construction workers in the Valley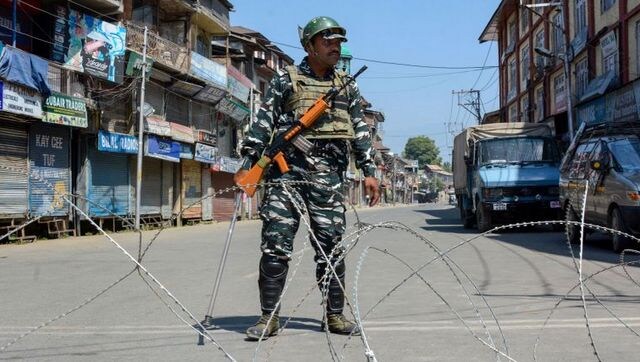 India
The de jure Islamic state created on the soil of India through Article 370 got dismantled, but the de facto Islamic state continues to hold fort.