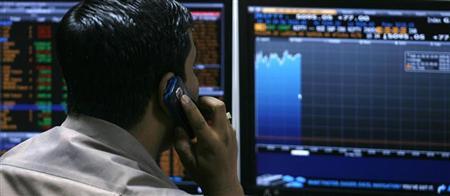 Reuters Market Eye - Indian share market will await the factory output data on Tuesday and inflation on Thursday, which are expected to set expectations ahead of the Reserve Bank of India's monetary policy decision on March 19.
Those indicators could help determine whether the benchmark BSE Sensex can sustain gains after posting its biggest weekly gain since November 30, 2012, on the back of a global risk rally.
Slower-than-expected industrial output could spark further gains in shares given it could raise expectations for a rate cut after the RBI already eased rates by 25 basis points in January.
Traders expect inflation to have remained largely steady in February from January's 6.62 percent rise.
Takeaways from market regulator SEBI's board meeting later in the day could also help determine direction.
Quarterly advance corporate taxes due by March 15 could also provide hints at India Inc's profits for the current quarter.
Global risk factors will also be key with monthly U.S. employment data due later in the day.
KEY FACTORS/EVENTS TO WATCH
Mon: Feb trade data (This is tentative since India has no fixed date for its monthly trade data, but usually releases it between the 10th and 14th of each month)
Tues: January factory output data, Feb CPI (around 11 a.m.)
Thurs: Feb WPI (around 12.00 p.m.)
(Reporting by Abhishek Vishnoi)
Updated Date: Mar 09, 2013 23:30 PM