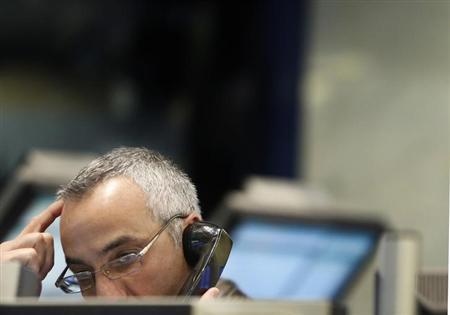 NEW YORK (Reuters) - U.S. stocks fell modestly on Monday after weaker-than-expected U.S. manufacturing data and the Dow and S&P 500 slipped from record closing highs reached on Thursday.
The Institute for Supply Management's March reading on manufacturing came in at 51.3, down from analysts' average forecast of 54.2. A figure above 50 indicates expansion by the sector.
In a separate report construction spending rose more than expected in February, gaining 1.2 percent, compared with forecasts of a 1 percent rise.
The S&P remains about 0.4 percent away from its all-time intraday high of 1,576.09, but few catalysts are seen before the release of the closely watched payroll report on Friday.
Many investors said the market could have more risks to the downside, with continued uncertainty over the economic situation in Cyprus, though European markets were closed on Monday for a holiday.
"I'm not expecting much to happen in markets before the payroll report, but with things that quiet, we could be more vulnerable to any surprise external news," said Dan Veru, chief investment officer at Palisade Capital Management LLC in Fort Lee, New Jersey.
Data on the U.S. services sector is on tap for Wednesday, followed by the Labor Department's March payrolls report on Friday.
Economic data has been mixed, but strong readings may not be a positive catalyst for markets. Investors speculate if the Federal Reserve views the economy as strong enough, it could reduce its bond-buying program, which has helped boost equities.
"We want to see progress made in the economy, even if it is just small and incremental," said Veru, who helps oversee $3.6 billion. "I'd like to see more merger deals announced, which would give me confidence that there are still gains to be had."
The Dow Jones industrial average was up 10.20 points, or 0.07 percent, at 14,588.74. The Standard & Poor's 500 Index was down 2.49 points, or 0.16 percent, at 1,566.70. The Nasdaq Composite Index was down 9.56 points, or 0.29 percent, at 3,257.96.
Equities rose 10 percent in the first quarter, extending a string of monthly gains to five. With the advance, the S&P is now only 0.4 percent away from its all-time intraday high level of 1,576.09.
The S&P's surge in the quarter has very bullish implications. An analysis by Ryan Detrick, senior technical strategist at Schaeffer's Investment Research in Cincinnati, showed the index has risen in the three first months of the year nine times in the past 30 years, and in each case, it has posted gains for the year.
The average yearly gain after such a start, the data showed, was 17.56 percent. An advance like that would leave the S&P 500 at about 1,676 at the end of this year.
Despite the positive momentum, some analysts have called for a near-term pullback, and the uncertainty over Cyprus has contributed to stocks' trading in a tight range. The S&P 500 traded within 10 points of its previous all-time closing high for 13 sessions before breaking through.
In company news, Tesla Motors Inc (TSLA.O) jumped 13 percent to $42.83 after forecasting full profitability in the first quarter, citing strong sales of its Model S sedan.
Exxon Mobil Corp (XOM.N) continued cleanup of a pipeline spill that spewed thousands of barrels of heavy Canadian crude in Arkansas. Shares of the Dow component rose 0.5 percent to $90.59.
Dell Inc (DELL.O) warned that it would be dangerous to take on a lot of debt and remain a public company given its worsening profit outlook, in a sign that it views proposals from Blackstone Group LP (BX.N) and billionaire investor Carl Icahn as fraught with risk. The comments came on Friday, which was a holiday for U.S. markets.
Shares of Dell dipped 0.2 percent to $14.30.
(Editing by Chizu Nomiyama and Kenneth Barry)
Updated Date: Apr 02, 2013 00:30 AM