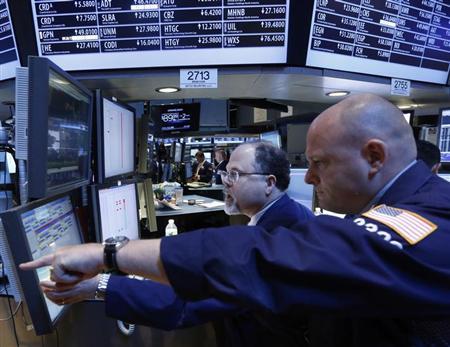 NEW YORK (Reuters) - U.S. stocks fell on Wednesday, with the S&P 500 index posting its biggest daily decline in more than a month, after a weaker-than-expected survey of private employers raised concerns about the strength of the economy.
News the Pentagon was sending a missile defense system to Guam in the coming weeks and remarks by Defense Secretary Chuck Hagel that North Korea posed a "real and clear" danger added to investor caution.
The ADP National Employment report on private-sector jobs showed less-than-expected hiring in March, which was a worrying sign for investors before the Labor Department's March non-farm payrolls report on Friday.
Wednesday's market decline came a day after the benchmark S&P 500 and the Dow finished at record highs. Energy and financial sectors led the day's fall on the S&P 500, with the S&P 500 financial index .SPSY down 1.7 percent.
"With some weaker economic data, you're seeing some risk-off action going on today. People are paring positions across the board ahead of the jobs number Friday," said Michael James, managing director of equity trading at Wedbush Securities in Los Angeles.
Headlines on North Korea add "another risk element to the market," he said.
Defense company shares gained despite the broader move lower. Shares of Northrop Grumman (NOC.N) were up 1.1 percent at $70.18.
The Dow Jones industrial average .DJI was down 111.66 points, or 0.76 percent, at 14,550.35. The Standard & Poor's 500 Index .SPX fell 16.56 points, or 1.05 percent, at 1,553.69, its biggest daily percentage decline since February 25. The Nasdaq Composite Index .IXIC was down 36.26 points, or 1.11 percent, at 3,218.60.
The Dow Jones Transportation Average .DJT, seen as a barometer of economic activity, fell 1.3 percent to 6005.95, closing below its 50-day moving average for the first time since November 21.
The S&P 500, up 8.9 percent since the start of the year, has come close to its intraday record level of 1,576.09 in the past few sessions before pulling back, and analysts have pointed to signs of its struggle.
On Tuesday, decliners beat advancers in the market despite gains in the three major indexes. Also, defensive sectors like healthcare, consumer staples and utilities, have led this year's rise.
Among Wednesday's declining stocks, ConAgra Foods Inc (CAG.N) fell 1.9 percent to $34.85 after reporting third-quarter earnings that fell 57 percent, though revenue grew.
Monsanto Co (MON.N) rose 0.8 percent to $104.51 after raising its full-year profit forecast.
The ADP report showed U.S. companies hired at the slowest pace in five months, far below what economists had expected, though the February report was revised upward.
The ADP report comes ahead of the more widely watched Department of Labor report Friday. That report is expected to show 200,000 jobs were created last month.
In another report, the Institute for Supply Management's March services sector index also came in below expectations, with the pace of growth at the lowest level in seven months.
Volume was roughly 7.1 billion shares traded on the New York Stock Exchange, the Nasdaq and the NYSE MKT, compared with the 2012 average daily closing volume of about 6.45 billion.
Decliners outpaced advancers on the NYSE by about 4 to 1 and on the Nasdaq by nearly 3 to 1.
(Editing by Nick Zieminski and Kenneth Barry)
Updated Date: Apr 04, 2013 03:15 AM