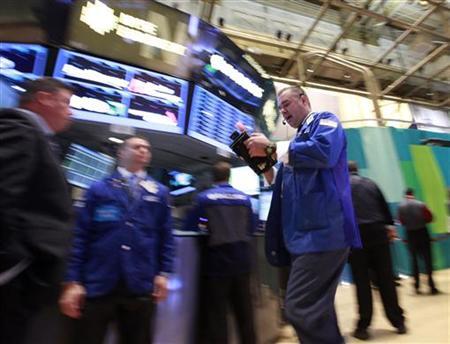 NEW YORK (Reuters) - U.S. stocks fell on Monday in light trading after a rally that drove the S&P 500 last week to its highest level in nearly five years and as falling oil prices hit energy shares.
The decline broke a four-day streak of gains for the S&P 500. On Friday, both the Dow and the S&P 500 ended at highs not seen since December 2007, after the Federal Reserve on Thursday unveiled new stimulus measures that could keep equities buoyed for months. The action followed a decision by the European Central Bank to support debt-ridden euro-zone nations by purchasing their debt.
Equities' move is mainly consolidation following last week's big move higher, said Bruce Zaro, chief technical strategist at Delta Global Asset Management in Boston.
"I think the signal that the Fed gave last week is likely to have a lasting effect, and carry through to the end of the year," he said.
Financials, which were among the biggest gainers late last week, were among sectors leading the day's decline. The S&P financial index fell 1.1 percent. Bank of America Corp shares lost 2.6 percent to $9.30.
An S&P index of energy shares fell 0.8 percent, slipping in sync with oil prices, which tumbled sharply in afternoon trading. Exxon Mobil shed 0.4 percent to percent to $91.91.
The market's losses were limited by Apple Inc, which hit another all-time high of $699.80 with demand for its new iPhone 5 exceeding initial supply. The company booked 2 million orders in one day and pushed the delivery date for some pre-orders to next month. At the close, Apple's stock rose 1.2 percent to $699.78.
Volume was lower than average, with about 5.64 billion shares traded on the New York Stock Exchange, the Nasdaq and the Amex, compared with the year-to-date average closing volume of 6.54 billion. Many participants were out on Monday for the Jewish New Year.
The Dow Jones industrial average slipped 40.27 points, or 0.30 percent, to end at 13,553.10. The Standard & Poor's 500 Index shed 4.58 points, or 0.31 percent, to 1,461.19. The Nasdaq Composite Index dropped 5.28 points, or 0.17 percent, to close at 3,178.67.
The day's economic data offered more evidence of weakness in the economy. Factory activity in New York state contracted for a second month in a row in September, with the Empire State "business conditions" index falling to its lowest level in nearly 3-1/2 years, according to a report on Monday from the Federal Reserve Bank of New York. A national manufacturing survey by an industry group earlier this month showed the sector contracted for a third month in August.
Gold and other commodities also fell for the day, and the S&P 500 materials index slid 1.5 percent, leading the S&P 500's decline. JP Morgan cut its ratings on a number of metals companies, including AK Steel, which dropped 5.8 percent to $5.53.
Investors also focused on turmoil overseas. Protesters in Afghanistan and Indonesia burnt U.S. flags and chanted "Death to America" on Monday in renewed demonstrations over a film mocking the Prophet Mohammad.
Israeli Prime Minister Benjamin Netanyahu warned that Iran would reach the brink of being able to build a nuclear bomb in just six or seven months.
Major Japanese companies, including Nissan and Honda, announced factory shutdowns in China on Monday and Japanese expatriates were urged to stay indoors ahead of what could be more angry protests over a territorial dispute between Asia's two biggest economies.
The day's deal news included Lowe's Cos Inc saying it had withdrawn its C$1.8 billion proposal to buy Rona Inc in the face of stiff opposition to the unsolicited bid for the Canadian home improvement retailer. Lowe's shares slipped 0.6 percent to $29.23.
Updated Date: Sep 18, 2012 02:45 AM