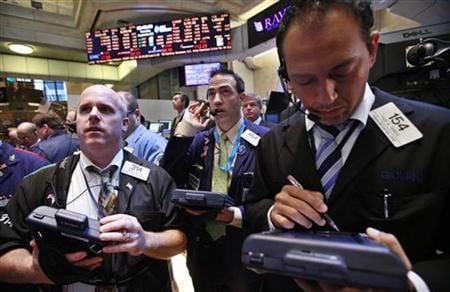 NEW YORK (Reuters) - U.S. stocks edged lower on Monday as a disappointing forecast from Caterpillar (CAT.N) and weak German data increased concerns that global growth may remain sluggish.
Just before the close, Caterpillar cut its earnings forecast for 2015. Its shares fell 0.9 percent to $90.87 and were the top drag on the Dow.
An index of German business sentiment declined for a fifth consecutive month in September, showing Europe's strongest economy was moving closer toward recession as the euro zone's debt crisis remains unresolved.
Concerns about a stalling global economy also were reflected in energy and technology shares, with the S&P 500 technology index down 0.8 percent.
But the S&P 500 is on track for a 7 percent gain for the quarter. Investors are probably participating in "window dressing," where fund managers add some of the latest outperformers to their portfolio.
"Hedge funds remain somewhat short the market, and the end of the quarter is coming up, so I wouldn't be surprised to see equity markets push a bit higher over the near term," said Michael Sheldon, chief market strategist of RDM Financial, in Westport, Connecticut.
The gains have largely been related to central bank stimulus plans. On September 6, the European Central Bank announced its bond-buying plan, and a week later, the Federal Reserve unveiled a third round of quantitative easing intended to bolster the economy and reduce U.S. unemployment.
The Dow Jones industrial average declined 20.55 points, or 0.15 percent, to 13,558.92 at the close. The Standard & Poor's 500 Index shed 3.26 points, or 0.22 percent, to 1,456.89. The Nasdaq Composite Index dropped 19.18 points, or 0.60 percent, to close at 3,160.78.
Dragging down the Nasdaq, Apple Inc (AAPL.O) fell 1.3 percent to $690.79 even as its latest iPhone sold out. Concerns arose that the company was unable to produce the new phone quickly enough to meet demand.
Among other high-profile tech decliners, Facebook (FB.O) shares dropped 9.1 percent to $20.79. It was the Nasdaq's most actively traded stock.
In the energy sector, the PHLX oil service sector index shed 1.4 percent, while U.S. crude oil declined 1 percent to settle at $91.93. Worries about global demand pushed crude prices down more than 6 percent last week.
For the third quarter so far, the energy sector has performed well, however, with the S&P energy index up 10.6 percent so far.
Shares of home builder Lennar Corp (LEN.N) fell 1.5 percent to $36.96 despite reporting steep increases in its third-quarter earnings and revenue.
Lennar's results follow a similarly strong report from KB Home (KBH.N) and together indicate the housing market is moving toward recovery.
Among the largest decliners on Monday was Peregrine Pharmaceuticals Inc (PPHM.O), which plunged 78.5 percent to $1.16 after the company said it found major discrepancies in results from a mid-stage study of its experimental lung cancer drug conducted by a third-party contractor.
(Additional reporting by Chuck Mikolajczak; Editing by Jan Paschal)
Updated Date: Sep 25, 2012 03:00 AM