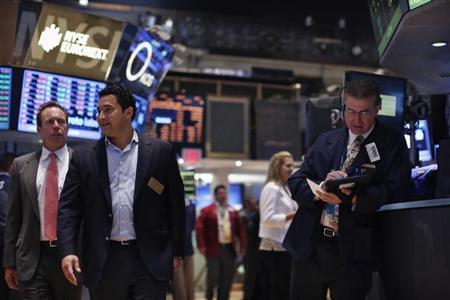 NEW YORK (Reuters) - U.S. stocks rose on Thursday, rebounding after three days of declines, led by gains in the technology sector.
Wall Street had opened higher, trimming some gains later in the morning before getting a boost from tech shares such as Microsoft Corp in afternoon trading.
Microsoft shares (MSFT.O) rose 3 percent to $33.01 in heavy volume. The S&P information technology sector .SPLRCT rose 0.5 percent.
Shares of Tesla Motors Inc (TSLA.O) jumped 14.2 percent to $153.46 a day after the electric car maker posted an unexpected quarterly profit. The stock has been a major momentum favorite this year, up almost 350 percent in 2013.
"We're in the season when trading volume is low and volatility is low, and there is not much real catalysts to move. In this kind of a day, a few big players could move the market up and down," said Randy Frederick, managing director of active trading for Charles Schwab in Austin, Texas.
The Dow Jones industrial average was up 48.80 points, or 0.32 percent, at 15,519.47. The Standard & Poor's 500 Index was up 7.36 points, or 0.44 percent, at 1,698.27. The Nasdaq Composite Index was up 18.81 points, or 0.51 percent, at 3,672.82.
The benchmark S&P 500 index is about 10 points away from all-time high of 1,709.67 set last week, and is trading above its 14-day moving average of 1,694.50.
Stocks had inched lower much of this week, pulling back from record levels, on concerns the Federal Reserve will start to reduce its stimulus efforts this year as the economy recovers. Gains in equities have been closely tied to the Fed's stimulative policy, and many investors are concerned economic growth may lose steam without the Fed's help.
Groupon Inc (GRPN.O) shares soared 27 percent to $11.05. Late Wednesday, the online coupon company reported revenue that exceeded expectations and named its co-founder as chief executive.
JPMorgan Chase & Co (JPM.N) was among the largest decliners on the Dow Jones industrial average; shares fell 0.8 percent to to $54.87. The biggest U.S. bank by assets faces a criminal probe by the U.S. Department of Justice over sales of mortgage-backed securities.
Data showed U.S. weekly jobless claims rose less than expected to 333,000 in the latest week. Overseas, China's July exports rose 5.1 percent, topping expectations and spurring hope the world's second-largest economy might be stabilizing after more than two years of slowing growth.
Orbitz Worldwide Inc (OWW.N), an online travel agency, reported higher-than-expected quarterly earnings as it sold more hotel and vacation packages, and forecast full-year revenue above analysts' estimates.
Priceline.com Inc (PCLN.O) and Nvidia Corp (NVDA.O) are scheduled to report results later Thursday.
Of 434 companies in the S&P 500 that reported earnings through Wednesday morning, Thomson Reuters data showed that 66.8 percent topped analysts' expectations, in line with the 67 percent beat rate over the past four quarters. In terms of revenue, 54.1 percent beat estimates, more than in the past four quarters, but below the 61 percent average since 2002.
<^^^^^^^^^^^^^^^^^^^^^^^^^^^^^^^^^^^^^^^^^^^^^^^^^^
Trading at Noon: Groupon & Tesla up, up and away
^^^^^^^^^^^^^^^^^^^^^^^^^^^^^^^^^^^^^^^^^^^^^^^^^^^>
(Editing by Bernadette Baum)
Updated Date: Aug 08, 2013 23:45 PM