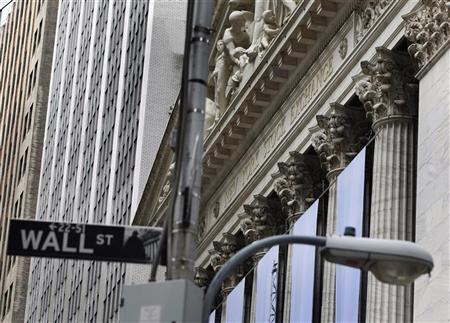 NEW YORK (Reuters) - Bank stocks led Wall Street down on Friday after a Spanish region asked Madrid for financial aid, rekindling fears about Europe's economic crisis and prompting traders to cash in three days of gains.
Spanish benchmark bond yields hit euro-era highs on the news despite the approval of the terms of a bailout of Spain's banks, bringing back worries that the euro zone's fourth-largest economy would eventually need to be bailed out.
The news overshadowed another round of strong corporate earnings including a profit beat at General Electric (GE.N) and strong advertising revenue at Google (GOOG.O). GE shares gained 2 percent to $20.20 and Google added 2.8 percent to $609.82.
Europe had been in the back burner this week, allowing Wall Street to move higher, "but it looks as if Europe is taking center stage again, with Spain as the main act," said Quincy Krosby, market strategist at Prudential Financial in Newark, New Jersey.
Wall Street had rallied for the past three days as robust corporate earnings, especially in the technology sector, briefly took the spotlight away from the euro zone's debt crisis.
The KBW bank index .BKX fell 1.7 percent taking its weekly decline to 2 percent so far. A gauge of European banks .SX7P dropped 3.7 percent and Spain's equity benchmark .IBEX fell 5.8 percent, its largest daily percentage drop in more than two years.
The Dow Jones industrial average .DJI fell 123.74 points, or 0.96 percent, to 12,819.62. The S&P 500 Index .SPX dropped 13.26 points, or 0.96 percent, to 1,363.25. The Nasdaq Composite .IXIC lost 34.57 points, or 1.17 percent, to 2,931.33.
The S&P on Thursday hit a 2-1/2 month high as record high prices in Treasuries kept yield-seekers focused on stocks despite a softening economy. Bets on further Federal Reserve action in support of the economy are also credited for helping equities hold amid poor economic data.
Microsoft (MSFT.O) on Thursday adjusted earnings and revenue that beat expectations, but its first-ever quarterly loss discouraged investors and shares fell 1.4 percent to $30.25.
Schlumberger Ltd (SLB.N) climbed 0.4 percent to $68.39 as revenue rose more than expected on international growth. Xerox Corp (XRX.N) fell 2.9 percent to $6.98 after cutting its full-year profit forecast.
Kayak Software (KYAK.O) shares soared 29 percent to $33.41 on their Nasdaq debut and Palo Alto Networks (PANW.N) also jumped, up 33 percent to $55.94 as they began trading on the NYSE.
(Reporting by Rodrigo Campos, editing by Dave Zimmerman)
Updated Date: Jul 20, 2012 23:45 PM