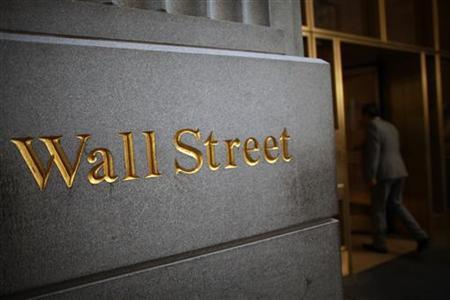 NEW YORK (Reuters) - U.S. stocks fell on Wednesday as minutes from the Federal Reserve's last meeting showed policymakers are open to the idea of providing more economic stimulus, but that conditions might need to worsen for a consensus to build.
At its meeting in late June, the Fed announced that it would buy an additional $267 billion in long-term bonds with proceeds from the sale of short-term notes. But it didn't embark on another round of quantitative easing to stimulate the economy.
"There seem to be a number of cross-currents coming out of the Fed. A few Fed members noted additional policy action could be warranted if the economy were to lose momentum; however, it doesn't seem like anything concrete is imminent," said Michael Sheldon, chief market strategist of RDM Financial, in Westport, Connecticut.
"That, along with the FOMC's citing that risks have increased and volatility is higher, are probably the culprits for the market's afternoon swoon."
The news caused the S&P 500, which was trading near flat for much of the morning, to decline and the Nasdaq to drop more than 1 percent.
The Dow Jones industrial average .DJI dropped 80.91 points, or 0.64 percent, to 12,572.21. The Standard & Poor's 500 Index .SPX slipped 3.37 points, or 0.25 percent, to 1,338.10. The Nasdaq Composite Index .IXIC fell 23.84 points, or 0.82 percent, to 2,878.51.
Among S&P 500 sectors, technology was the biggest loser. Network gear maker Adtran Inc (ADTN.O) warned about third-quarter revenue, driving its stock down 15.7 percent to $22.92. The warning also hit the shares of Adtran's rivals, including Juniper Networks (JNPR.N), down 1.2 percent at $14.66, and Ciena (CIEN.O), down 8.1 percent at $14.11.
The warning followed weaker forecasts earlier this week from chipmakers, including Advanced Micro Devices (AMD.N). Its stock slid 2 percent to $4.89 on Wednesday.
(Editing by Kenneth Barry and Jan Paschal)
Updated Date: Jul 12, 2012 01:15 AM