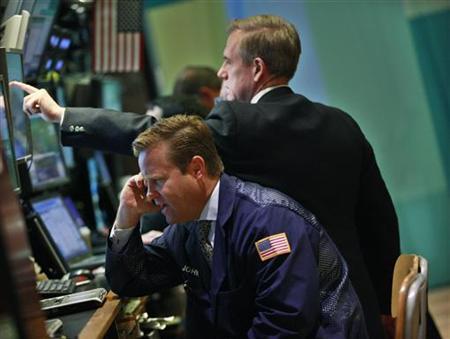 NEW YORK (Reuters) - U.S. stocks turned lower on Wednesday following comments from the Federal Reserve, which said the recovery had lost momentum so far this year, though it stopped short of offering new monetary stimulus.
However, the Fed did signal that further bond buys could be in store.
The Dow Jones industrial average was down 34.82 points, or 0.27 percent, at 12,973.86. The Standard & Poor's 500 Index was down 4.18 points, or 0.30 percent, at 1,375.14. The Nasdaq Composite Index was down 17.28 points, or 0.59 percent, at 2,922.24.
Before the comments, equities had been trading near break-even levels throughout the session. (Reporting by Ryan Vlastelica; Editing by Dave Zimmerman)
Updated Date: Aug 02, 2012 00:45 AM