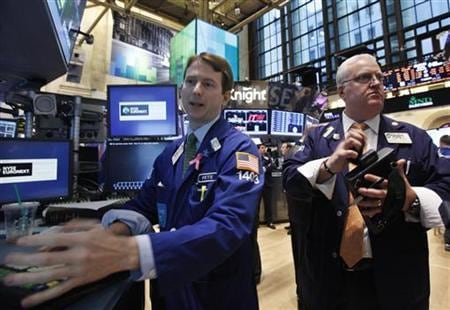 NEW YORK (Reuters) - U.S. stocks edged higher in volatile trade on Wednesday and the dollar strengthened, helped by better-than-expected news on the U.S. economy, while oil prices slumped more than $3 as signs of a slowdown in China stoked worries about demand for crude.
The gloomier outlook on China and a further slowdown in the euro zone's economy weighed on the euro, which also was hit by uncertainty about when Spain will request the bailout seen as necessary to relieve the euro zone debt crisis.
The pace of growth in the vast U.S. services sector, which dominates the country's economy, picked up in September, while private employers added more jobs last month than expected, according to separate industry reports on Wednesday.
The data came ahead of the first of three presidential debates Wednesday night in Denver and the government's closely watched monthly payrolls report on Friday.
Earlier, surveys showed the euro zone's economic woes worsened last month and China's slowdown looked likely to extend to a seventh quarter, suggesting recent bold actions by global central banks have yet to convince consumers to start spending again.
"China is slowing down and we are as well, but we still have growth," said Frank Lesh, a futures analyst and broker at FuturePath Trading LLC in Chicago. "The real question is does Europe drag China down and us with it."
The Dow Jones industrial average gained 10.96 points, or 0.08 percent, to 13,493.32. The Standard & Poor's 500 Index rose 4.28 points, or 0.30 percent, to 1,450.03. The Nasdaq Composite Index added 11.95 points, or 0.38 percent, to 3,131.99.
Consumer discretionary stocks posted the strongest gains, with the S&P consumer discretionary index rising 0.8 percent. Amazon (AMZN.O) rose more than 1 percent, and homebuilder PulteGroup (PHM.N) rose over 6 percent.
But lower oil and metals prices weighed on energy and materials shares. The S&P materials index .GSPM and the energy sector index were both negative.
The MSCI global stock index dropped 0.1 percent to 333.16. The FTSEurofirst-300 index of pan-European shares slipped 0.1 percent to end at 1,100.84 points.
Against the yen, the dollar rose as high 78.58 yen, its highest level since September 19. It was last at 78.50 yen, up 0.5 percent on the day.
The euro lost 0.1 percent to $1.2908.
Spain's prime minister, Mariano Rajoy, on Tuesday quashed speculation the country could apply for a bailout as soon as this weekend, but expectations are high that Spain will eventually request aid.
"We expect Spain to apply for aid and relatively soon, within the next one to three weeks," said Richard Falkenhall, currency strategist at SEB in Stockholm. "This will be a further relief for the euro, but it's still not solving the underlying problems of the euro zone."
COPPER RETREATS
Signs of a slowdown in China weighed on metals prices, with copper snapping four days of gains. China accounted for 40 percent of refined copper demand last year.
Benchmark copper on the London Metal Exchange traded at $8,290 a tonne, down from Tuesday's close of $8,325.50. The metal, which is used in power and construction, had gained more than 2 percent over the past four sessions.
Oil prices fell sharply on the concerns about the global economy and crude demand. Brent November crude futures lost $2.99 to $108.58 a barrel. U.S. November crude shed $3.35 to $88.54 a barrel€.
Prices briefly pared losses after the U.S. Energy Information Administration's weekly oil inventory report showed crude stocks fell last week in the United States, against expectations for an inventory build.
"The global economy is in a rut , and even with supportive EIA data crude is down," said Dan Flynn, an analyst at Price Futures Group in Chicago.
Spot gold was up slightly at $1,775.60. Prices hit $1,791.20 earlier this week, their highest since last November.
The benchmark 10-year U.S. Treasury note was down 1/32, with the yield at 1.6215 percent. (Additional reporting by Rodrigo Campos and Gertrude Chavez-Dreyfuss; Editing by Leslie Adler)
Updated Date: Oct 04, 2012 00:16 AM