Virat Kohli gives thumbs-up to DRS | Reuters
By Amlan Chakraborty | MOHALI, India MOHALI, India India test captain Virat Kohli gave a thumbs-up to the Decision Review System (DRS) on Friday, signalling cricket's financial powerhouse might permanently embrace the technology aimed at curbing umpiring errors.It took a lot of cajoling to convince India, a staunch DRS opponent after their bitter 2008 initiation in Sri Lanka, to use the technology on a trial basis in the current five-test series against England.Kohli did not get it always right in the first two tests but the India captain sounded pretty much a convert on the eve of the third match against England.'I'm pretty happy with it...I think it is pretty fair for the game,' Kohli told reporters at the Punjab Cricket Association stadium on Friday.The Indian board has been particularly suspicious of the ball-tracking technology but agreed to try it following a presentation by officials from the International Cricket Council (ICC).Kohli appreciated how the ball-tracking technology improved leg-before decisions without challenging the authority of the on-field umpires. '...they (umpires) are the people given the job to make decisions and their call is respected even in the DRS. I think that's pretty fair,' Kohli said.'If it is really, really off target, then DRS corrects it but if it is marginal, then you got to respect the umpire's call By Amlan Chakraborty
| MOHALI, India
MOHALI, India India test captain Virat Kohli gave a thumbs-up to the Decision Review System (DRS) on Friday, signalling cricket's financial powerhouse might permanently embrace the technology aimed at curbing umpiring errors.It took a lot of cajoling to convince India, a staunch DRS opponent after their bitter 2008 initiation in Sri Lanka, to use the technology on a trial basis in the current five-test series against England.Kohli did not get it always right in the first two tests but the India captain sounded pretty much a convert on the eve of the third match against England."I'm pretty happy with it...I think it is pretty fair for the game," Kohli told reporters at the Punjab Cricket Association stadium on Friday.The Indian board has been particularly suspicious of the ball-tracking technology but agreed to try it following a presentation by officials from the International Cricket Council (ICC).Kohli appreciated how the ball-tracking technology improved leg-before decisions without challenging the authority of the on-field umpires.
"...they (umpires) are the people given the job to make decisions and their call is respected even in the DRS. I think that's pretty fair," Kohli said."If it is really, really off target, then DRS corrects it but if it is marginal, then you got to respect the umpire's call. That's all it does. "I think it clarifies the decision that is made on the field. I think that's absolutely fine."
The India players are yet to master the nuances of the technology."We as a team have only played two test matches with DRS and I can't analyse the progress in a span of eight days. It is a pretty fair thing to have happened and we are going to get better with using it, for sure," Kohli said.An excellent lesson was how England teenager Haseem Hameed, fielding at short leg, convinced skipper Alastair Cook to review a not-out decision and get India opener Lokesh Rahul caught behind in the second innings of the second test in Visakhapatnam.
"Obviously, the wicketkeeper and the bowler are the main people involved, who have the best sight of where the ball hit the pad or if they heard a sound of the bat," Kohli said."The close-in fielders as well play a massive role as well, as you saw with KL's (Rahul) dismissal. It was Hameed who actually convinced the bowler that he heard something which someone else might not have." (Editing by Ed Osmond)
This story has not been edited by Firstpost staff and is generated by auto-feed.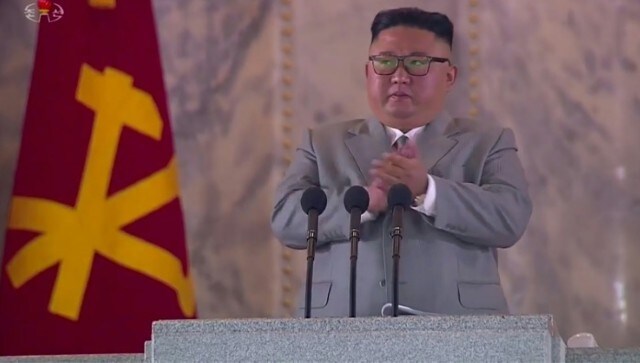 World
Kim also accused South Korea of hypocrisy because it criticises North Korea's weapons development as provocations while spending heavily to increase its own military capabilities
India
With no more than 10,000 Indians eligible for green cards a year, a vast majority of applicants have no choice but to wait for their turn
World
Iran has historically played a big role and proven to be the most capable external actor when it comes to government formation in Iraq