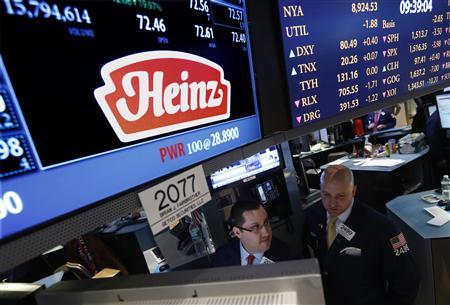 (Reuters) - U.S. securities regulators filed suit on Friday against unknown traders in the options of ketchup maker H.J. Heinz Co (HNZ.N), alleging they traded on inside information before the company announced a deal to be acquired for $23 billion by Warren Buffett's Berkshire Hathaway Inc (BRKa.N) and Brazil's 3G Capital.
The suit, in federal court in Manhattan, cites "highly suspicious trading" in Heinz call options just prior to the February 14 announcement of the deal. The regulator has frequently in past filed suit against unnamed individuals where it has evidence of wrongdoing, but is still trying to uncover the identities of those involved.
That trading, the suit said, caused the price of the particular call option they bought to soar 1,700 percent and generated unrealized profits of more than $1.7 million.
The regulator claims the traders are either in, or trading through accounts in, Zurich, Switzerland. The account had no history of trading in Heinz over the last six or so months.
It has also obtained an emergency order to freeze assets in the Swiss account linked to the trading. In the suit, the SEC refers to the account as the "GS Account" and in a statement Goldman Sachs Group Inc (GS.N) said it was cooperating with the regulator's investigation.
"Irregular and highly suspicious options trading immediately in front of a merger or acquisition announcement is a serious red flag that traders may be improperly acting on confidential nonpublic information," Daniel Hawke, chief of the SEC's Division of Enforcement's Market Abuse Unit said in a statement.
Representatives of Heinz and Berkshire Hathaway were unavailable for immediate comment. A 3G representative declined to comment. The founder of 3G, Jorge Paulo Lemann, is from Brazil, but has made a home in Switzerland since the 1990s. He has not been implicated in any wrongdoing related to the deal.
After the deal was revealed on Thursday, options market experts called Wednesday's trading "suspicious and incredibly well-timed."
The suit marks the second time in less than six months that the SEC has taken action over a 3G acquisition. In September 2012, the regulator got a court order to freeze the assets of a Wells Fargo & Co (WFC.N) stockbroker who allegedly traded on inside information about 3G's 2010 acquisition of Burger King.
In that case, the SEC said the stockbroker got the information from a client who had invested in one of 3G's funds.
The suit also marks the second time in two years that controversy has erupted over a Berkshire acquisition target.
In March 2011, Berkshire struck a deal to buy chemical company Lubrizol for $9 billion. Less than three weeks later, Berkshire said Buffett lieutenant David Sokol was resigning and disclosed he had been buying Lubrizol shares while pushing Buffett to acquire the company. The SEC dropped a probe into Sokol's trading earlier this year.
The suit is Securities and Exchange Commission v. Certain Unknown Traders in the Securities of H.J. Heinz Co, U.S. District Court, Southern District of New York, No. 13-1080. (Reporting by Jonathan Stempel and Bernard Vaughan.; Writing by Ben Berkowitz.; Editing by Leslie Adler, David Gregorio Tim Dobbyn and Andre Grenon)
Updated Date: Feb 16, 2013 05:15 AM