Turkmenistan seeks IDB, Saudi, Japanese funding for TAPI pipeline | Reuters
AVAZA, Turkmenistan Turkmenistan is in talks with the Islamic Development Bank, the Saudi Fund for Development and Japan's government on financing the construction of a gas pipeline to Afghanistan, Pakistan and India, a project official said on Saturday. The TAPI pipeline is supposed to carry 33 billion cubic metres (bcm) of gas a year from Turkmenistan's giant Galkynysh gas field - a project designed to ease the former Soviet state's dependence on Russia and China. Turkmenistan, which sits on the world's fourth-largest gas reserves, started building its section of the link in December
AVAZA, Turkmenistan Turkmenistan is in talks with the Islamic Development Bank, the Saudi Fund for Development and Japan's government on financing the construction of a gas pipeline to Afghanistan, Pakistan and India, a project official said on Saturday.
The TAPI pipeline is supposed to carry 33 billion cubic metres (bcm) of gas a year from Turkmenistan's giant Galkynysh gas field - a project designed to ease the former Soviet state's dependence on Russia and China.
Turkmenistan, which sits on the world's fourth-largest gas reserves, started building its section of the link in December. But its partners in the project - the state energy companies of Afghanistan, Pakistan and India - have yet to begin work.
The 1,814-km (1,127-mile) route also faces security challenges - current plans send the underground pipeline through one of Afghanistan's most violence-wracked provinces, Helmand, where the Taliban insurgents hold sway.
"The Islamic Development Bank has expressed interest and readiness to finance the project, not only on Turkmenistan's territory, but also in Afghanistan and Pakistan," Muhammetmyrat Amanov of TAPI Pipeline Company Limited told a conference in the Turkmen resort of Avaza.
"We are also working with the Saudi Fund for Development ... We have had meetings with the government of Japan. They have expressed interest," he said.
Amanov said the project company, controlled by Turkmen state firm Turkmengas, was working on estimating the total cost of the project.
(Reporting by Marat Gurt; Writing by Olzhas Auyezov; Editing by Andrew Heavens)
This story has not been edited by Firstpost staff and is generated by auto-feed.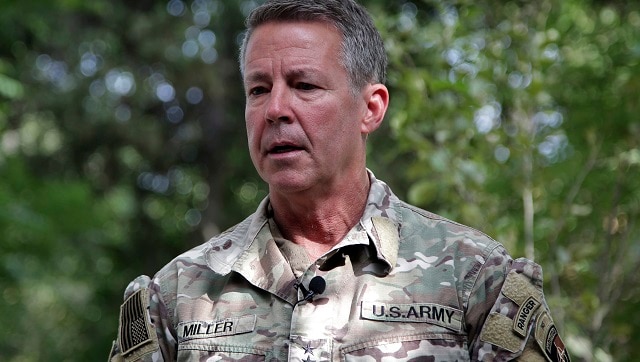 World
General Scott Miller has served as America's top commander in Afghanistan since 2018. He handed over command of what has become known as America's 'forever war' to Marine General Frank McKenzie
Entertainment
Reports of past abuse of classmates, including those with disabilities, surfaced online recently and sparked a backlash on social media, along with demands for Oyamada's resignation.
World
US president Joe Biden has been facing tremendous pressure from lawmakers in both parties to come up with a plan to help evacuate Afghan military helpers before the US troop withdrawal on 31 August