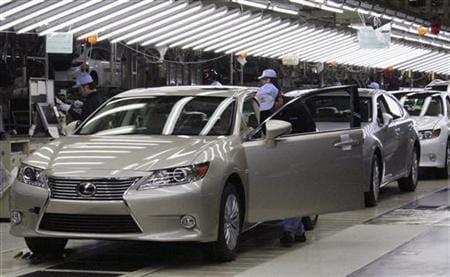 TOKYO (Reuters) - Toyota Motor Co. (7203.T) is back on its feet after a year marred by natural disasters, recapturing its crown as the world's top-selling carmaker and looking to raise its 2012 production and sales forecasts.
The company is expected to report on Friday its biggest quarterly operating profit in four years, marking a full comeback from the disruption that followed last year's huge earthquake and tsunami in Japan and flooding in Thailand that disrupted supply chains.
The challenge now, analysts say, is whether the outsized sales gains Toyota has seen in its biggest markets can be sustained in the quarters ahead.
On average, analysts surveyed by Thomson Reuters I/B/E/S expect Toyota to book an operating profit of 314.1 billion yen for the three months to June, compared with a year-earlier loss. They also forecast an operating margin of about 5.7 percent, up sharply from the 1.9 percent margin recorded for the fiscal year ended in March.
That would still leave Toyota below the performance of its peak year that ended March 2008, before the global financial crisis hit sales and quality and safety problems forced it to recall some 19 million vehicles starting in 2009.
"While they are meeting a lot of challenges and improving, the yen is still a phenomenal problem for them," said Kurt Sanger, auto analyst at Deutsche Securities.
"Are they doing things to make themselves better? Clearly. At 80 yen to the dollar and with their Japan exposure, can they be the best? Very difficult."
STRONG YEN
Toyota has set a goal to keep building 3 million vehicles a year in Japan, leaving it more exposed to the stronger yen than its direct rivals. Toyota builds about 40 percent of its cars and trucks in Japan compared with about 25 percent for domestic rivals Nissan and Honda.
As a result, a one yen gain against the dollar would shave 35 billion yen off Toyota's operating profit, compared with 20 billion for Nissan and 17 billion yen for Honda, the companies said three months ago. The currency has appreciated to around 78 yen per dollar from more than 120 yen five years ago.
Analysts expect the yen to remain a drag on Toyota's profitability, even as sales snap back from the depressed levels of 2011.
Toyota regained the crown as the world's best-selling carmaker from General Motors (GM.N) in the first six months of 2012.
It is expected to raise its full-year global sales forecast to 8.8 million vehicles from the current level of 8.58 million, and its global production forecast to nearly 9 million vehicles from 8.65 million, the Nikkei business daily and other domestic media outlets reported. Toyota declined to confirm the reports.
In its biggest and most profitable market, the United States, Toyota sales have snapped higher by 28 percent through July, the biggest gain for any major automaker. The sales gains have been combined with higher transaction prices, reflecting strong demand for the Prius hybrid and the Camry sedan, the top-selling car in the United States.
Some analysts say Toyota is likely to be able to retain its top sales position worldwide. But there are risks.
"To date, Toyota faced supply shortage and it has been supplying products and introducing new models to catch up, which led to an increase in vehicle sales. But it's difficult to think that sales will continue to grow with the current momentum," said Kunihiko Shiohara, a managing director at Credit Suisse in Tokyo.
Both Nissan and Honda, which released their quarterly earnings in late July, underperformed analyst expectations, citing the strong yen and costly sales incentives as they tried to shift older models before putting revamped models on sale.
For the full fiscal year ending March 2013, Toyota has forecast an operating profit of 1 trillion yen and a net profit of 760 billion yen. Toyota will release its quarterly results at 0600 GMT on Friday. (Reporting by Yoko Kubota; Editing by Kevin Krolicki and Alex Richardson)
Updated Date: Aug 03, 2012 03:45 AM