Three Tata executives quit, sources say, adding to uncertainty at Indian group | Reuters
By Promit Mukherjee and Aditi Shah | MUMBAI/NEW DELHI MUMBAI/NEW DELHI Three senior group executives at Tata Sons have resigned, people close to the matter told Reuters on Saturday, as management woes appeared to deepen at the $100 billion conglomerate following the stunning ouster of its chairman.The three executives were members of an executive council disbanded after Tata dismissed chairman Cyrus Mistry on Monday. The council, comprising five senior Tata group executives and Mistry, was tasked with creating long-term value for stakeholders and boosting returns on investment
By Promit Mukherjee and Aditi Shah
| MUMBAI/NEW DELHI
MUMBAI/NEW DELHI Three senior group executives at Tata Sons have resigned, people close to the matter told Reuters on Saturday, as management woes appeared to deepen at the $100 billion conglomerate following the stunning ouster of its chairman.The three executives were members of an executive council disbanded after Tata dismissed chairman Cyrus Mistry on Monday. The council, comprising five senior Tata group executives and Mistry, was tasked with creating long-term value for stakeholders and boosting returns on investment. Those who quit are group human resources chief N.S. Rajan; group business development and public affairs head Madhu Kannan; and group strategy executive Nirmalya Kumar.Reuters could not reach any of the three for comment. Tata did not respond to an e-mail request for comment on Saturday.Reuters reported earlier this week that the other two council executives, Mukund Rajan and Harish Bhat, would take on senior level responsibilities within the Tata group.One person close to Tata said there was no certainty all the positions would be re-filled as the group's structure is likely to change with Mistry's exit. Another person, however, said replacements could be named as early as next week, though there was no management crisis as each Tata company has its own team of public affairs and business development executives.But some governance experts say the resignations of senior executives risk increasing the sense of uncertainty at Tata.
"In the short term, obviously there'll be some disruption at the group level" said Shriram Subramanian of InGovern, a shareholder advocacy group. "People leaving at senior levels shows there's a lack of confidence between the two sides, and that needs to be reinstated at the earliest to contain any longer-term damage."MEDIATION
Disagreements between Mistry and his predecessor Ratan Tata, the family patriarch and now stand-in chairman of the 148-year-old conglomerate, have turned a boardroom battle into a damaging public spat fuelled by leaked letters and tit-for-tat accusations.
Mistry alleges corporate governance failures and mismanagement at Tata, which has dismissed the allegations as "malicious".CNBC-TV18 news channel reported on Saturday that Darius Khambatta, a senior lawyer close to both Tata and Mistry, had initiated mediation talks between the two parties. Khambatta told Reuters he was "not mediating between them," but declined to comment on whether he had met Tata and Mistry.India's financial crime-fighting agency will look into Mistry's allegations about mismanagement at Tata's aviation ventures, another person familiar with the matter told Reuters.In a leaked letter to the Tata board, Mistry has said he was opposed to Tata's aviation partnerships with Malaysia's AirAsia Bhd and Singapore Airlines.
In the case of Air Asia, a forensic investigation had found "fraudulent transactions" of 220 million rupees ($3.29 million) involving "non-existent parties", he alleged.That prepared the ground for a "probe into the allegation of mismanagement of funds," said an official at the national Enforcement Directorate, on condition of anonymity.The agency was not immediately available to comment. Tata did not respond to Reuters questions on this matter. An AirAsia India spokeswoman said she had no immediate comment.India's capital markets regulator is already looking into Mistry's allegations related to violations of corporate governance rules at Tata.($1 = 66.7709 Indian rupees) (Additional reporting by Mayank Bhardwaj; Writing by Aditya Kalra; Editing by Ian Geoghegan and Euan Rocha)
This story has not been edited by Firstpost staff and is generated by auto-feed.
India
CNN-News18's Shreya Dhoundial speaks to top cybersecurity expert and Recorded Future CEO Christopher Ahlberg on China's digital army and what India needs to watch out for
India
Merchandise imports stood at $56.39 billion in September, an increase of 84.77 percent compared to the year-ago period.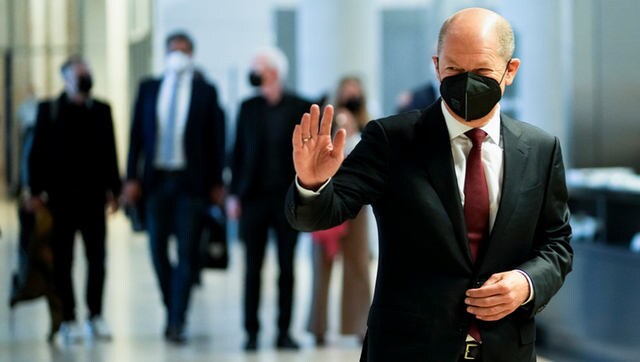 World
As recent events in Germany and Austria suggest, there's a perceptible wind blowing against centre-right governments in Europe.