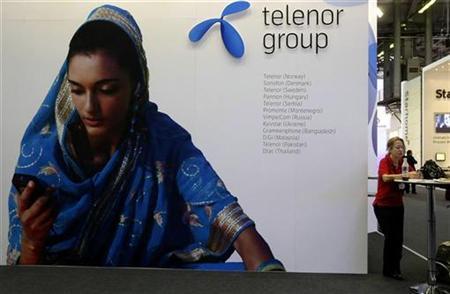 OSLO (Reuters) - Mobile telephone firm Telenor (TEL.OL) reported third-quarter earnings ahead of forecasts on Tuesday and left its full-year guidance broadly unchanged after strength in the Nordics offset a weaker showing from Asia.
Telenor's Norwegian, Swedish and Danish operations all outperformed expectations while its Indian unit suffered a smaller than predicted loss, offsetting weaker-than-expected results from Pakistan and Malaysia.
Norway's Telenor, which has more than 150 million subscribers across Europe and Asia, said earnings before interest, taxes, depreciation and amortisation (EBITDA) rose 6.1 percent to 8.80 billion crowns, easily beating forecasts for 8.54 billion crowns.
Its net profit was similarly ahead of expectations, totalling 3.65 billion crowns, above forecasts for 3.46 billion.
The firm cut its full-year revenue growth target to "around 4 percent" from "above 4 percent" but kept its EBITDA margin guidance unchanged in the 35-36 percent range. It said capital expenditure would be around 12 percent of revenues, at the top of its previous 11-12 percent range.
In India, where Telenor lost its broadcast licenses after an industry-wide corruption probe, it continued to restructure, preparing to take part in a new license auction, either alone or with a new partner, it said.
A final decision on whether to participate in the auction depended on the resolution of several issues, it said.
Telenor also said it remained committed to a 2015 operating cash flow target of 28-30 billion crowns.
Telenor was scheduled to release its third-quarter earnings early on Wednesday but published the figures early inadvertently.
(Reporting by Balazs Koranyi. Editing by Jane Merriman)
Updated Date: Oct 24, 2012 02:00 AM