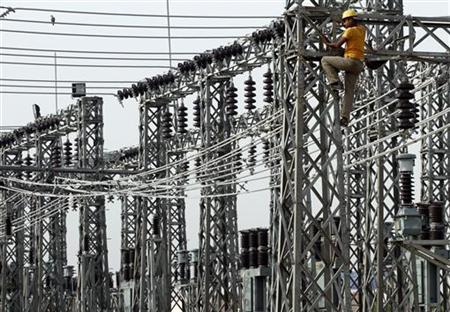 MUMBAI (Reuters) - Tata Power Company (TTPW.NS) posted a 66 percent fall in its first-quarter net profit, hurt by increased costs at its coal units, and higher finance and depreciation costs after starting two new plants this year.
The company posted a net profit of 1.46 billion rupees, compared with 4.3 billion rupees a year ago while revenue rose 25 percent to 72.54 billion rupees.
Last week, the country suffered one of the world's worst blackouts, as three of it's five transmission grids collapsed, plunging more than half the country's population in darkness, which the government blamed on overdrawing of power by some states.
Power generators have been slow to add much needed capacity due to the fuel shortages, delayed regulatory clearances and debt-crippled distribution utilities buying less power.
Coal accounts for the majority of power generation in India, which has the world's fifth-largest reserves of the fuel. However, power producers are facing a shortage of supplies as state miner, Coal India (COAL.NS), is unable to meet demand and as gas production slides.
Tata Power said its coal mining business saw profits plummet to a third as coal prices fell globally and cost of production rose.
The company also incurred higher interest and depreciation costs after commissioning new power plants with capacity of about 1,300 MW earlier this year and also had to incur some charges in its distribution business in Mumbai, the financial capital.
Tata Power's plant in Mundra in Gujarat is running on imported coal and is suffering from mounting losses. As per its agreement with buyers, it cannot pass through the rise in cost of coal imported from Indonesia, which last year raised levies on coal exports.
Tata Power has filed a petition with India's Central Electricity Regulatory Commission asking for a tariff hike of about 67 paise per unit for its Mundra project as fuel costs rose on the Indonesia rules, Managing Director Anil Sardana said.
It sources most of its coal for the plant from the South East Asian nation.
The change in Indonesia's mineral export rules has pushed up the cost of coal for Indian buyers, who source 70 percent of their coal imports from there, making about 9,000 MW of imported coal-based projects in the country economically unviable, including Tata's Gujarat plant.
(Reporting by Aradhana Aravindan and Prashant Mehra; Editing by Mike Nesbit)
Updated Date: Aug 08, 2012 23:00 PM