Tata group accuses ousted chairman Mistry of malice | Reuters
By Aditi Shah and Promit Mukherjee | NEW DELHI/MUMBAI NEW DELHI/MUMBAI Tata Sons accused its former chairman, Cyrus Mistry, of levelling unsubstantiated claims and malicious allegations against the Indian conglomerate as the bitter and highly public row over his sacking escalated on Thursday.The acrimonious exchange has led aides to Prime Minister Narendra Modi to urge restraint in a dispute that could sully the reputation of one of India's oldest and most respected business houses. Tata Sons has had only six chairmen since it was founded in 1868, growing into a $103 billion international conglomerate that today spans cars, steel and information technology.Mistry's parting shot, in a blistering letter penned after he was ousted in a boardroom coup on Monday, accused the company of failures of governance that he said had destroyed billions of dollars in shareholder value.He also alleged inappropriate interference by Ratan Tata, the 78-year-old patriarch who hired him and has come out of retirement to run the business in a caretaker role.Tata, in its eight-paragraph statement, dismissed the claims of the 48-year-old Mistry out of hand.'The correspondence makes unsubstantiated claims and malicious allegations,' Tata Sons said in the statement emailed to journalists a day after Mistry's five-page letter was leaked to the press.'These will be responded to in an appropriate manner,' the company said without elaborating, raising the prospect that the war of words could lead to a legal battle.The country's two largest stock exchanges demanded clarity from Tata's more than two dozen listed units in what could herald scrutiny over why investors were not told of Mistry's concerns earlier.At least one unit, Tata Steel, dismissed talk of writedowns. But shares in all the group's major listed companies fell on Thursday.Public confrontations of this nature are rare in Indian corporate life, particularly when they involve established conglomerates and business elders like Ratan Tata, who ran the Tata group for over two decades before hand-picking Mistry
By Aditi Shah and Promit Mukherjee
| NEW DELHI/MUMBAI
NEW DELHI/MUMBAI Tata Sons accused its former chairman, Cyrus Mistry, of levelling unsubstantiated claims and malicious allegations against the Indian conglomerate as the bitter and highly public row over his sacking escalated on Thursday.The acrimonious exchange has led aides to Prime Minister Narendra Modi to urge restraint in a dispute that could sully the reputation of one of India's oldest and most respected business houses. Tata Sons has had only six chairmen since it was founded in 1868, growing into a $103 billion international conglomerate that today spans cars, steel and information technology.Mistry's parting shot, in a blistering letter penned after he was ousted in a boardroom coup on Monday, accused the company of failures of governance that he said had destroyed billions of dollars in shareholder value.He also alleged inappropriate interference by Ratan Tata, the 78-year-old patriarch who hired him and has come out of retirement to run the business in a caretaker role.Tata, in its eight-paragraph statement, dismissed the claims of the 48-year-old Mistry out of hand."The correspondence makes unsubstantiated claims and malicious allegations," Tata Sons said in the statement emailed to journalists a day after Mistry's five-page letter was leaked to the press."These will be responded to in an appropriate manner," the company said without elaborating, raising the prospect that the war of words could lead to a legal battle.The country's two largest stock exchanges demanded clarity from Tata's more than two dozen listed units in what could herald scrutiny over why investors were not told of Mistry's concerns earlier.At least one unit, Tata Steel, dismissed talk of writedowns. But shares in all the group's major listed companies fell on Thursday.Public confrontations of this nature are rare in Indian corporate life, particularly when they involve established conglomerates and business elders like Ratan Tata, who ran the Tata group for over two decades before hand-picking Mistry.
"It has taken everyone by surprise. Nobody would have thought such things could happen at Tata," said J. N. Gupta, a former executive at India's markets regulator and now managing director at Stakeholders Empowerment Services.Nalin Kohli, a national spokesman of Modi's Bharatiya Janata Party and a Supreme Court lawyer, said: "The larger question will remain whether a legal battle will serve the interests of shareholders."CULTURE CLASH
Inside Tata, a company that promotes its roots in the heritage and social values of the Parsi community, some workers have bristled at the board's treatment of Mistry. But executives also questioned Mistry's efforts to restructure the group.
"It is like a bunch of finance or hedge fund guys that have walked in and decided to cut everything. This is not the Tata way of doing business," said one source close to the Tata group in response to the letter. "If you are picking things that are not working and then trying to get rid of them, where is growth going to come from?"Ratan Tata was an acquirer in his time at the top, overseeing deals like the $12 billion acquisition of Corus, formerly British Steel, in 2007, and the purchase of Jaguar Land Rover a year later.Mistry accused the board of failing to give him "room to move", and argued that Ratan Tata had acted as an alternative power centre, in particular driving deals that created two airline businesses.Its Tata Motors arm extended credit too easily to fuel sales, Mistry said, and when fraudulent dealings surfaced at AirAsia India, they were not acted on fast enough.
In its rejoinder, Tata stated that Mistry, who was appointed a director in 2006 and made executive chairman in 2012, would have been "fully empowered" to lead the group and its companies."He would be fully familiar with the culture, ethos, governance structure, financial and operational imperatives of the Tata Group as well as various group companies," the company said."It is unfortunate that it is only on his removal that allegations and misrepresentation of facts are being made," it added. "The record, as and when made public, will prove things to the contrary."One lawyer said Mistry's letter appeared to be presenting arguments that both he and the interests of the company had been the victim of "oppression and mismanagement" as cited in India's Companies Act, 2013."It would not be unprecedented for a managing director or chairperson to proclaim oppression - even if he was in charge," said the lawyer Amir Singh Pasrich, managing partner of I.L.A. Pasrich and Co, a New Delhi-based law firm. He is not advising either side.Mistry remains a director of Tata Sons and could by law only be removed by shareholders after being given due warning. He also chairs several listed units and his Pallonji family owns nearly a fifth of Tata Sons.     Abhishek Manu Singhvi, a senior lawmaker from the opposition Congress party and lawyer who has been retained by Tata, dismissed Mistry's allegations and questioned his motivation in going public with them. "I don't see any reason to have allegations and counter allegations," Singhvi told Reuters Television, adding that the "maligning and bad mouthing should stop". (Additional reporting by Douglas Busvine, Rupam Jain and Sunil Kataria in New Delhi, Abhirup Roy and Euan Rocha in Mumbai; Editing by Clara Ferreira Marques, Douglas Busvine and Raju Gopalakrishnan)
This story has not been edited by Firstpost staff and is generated by auto-feed.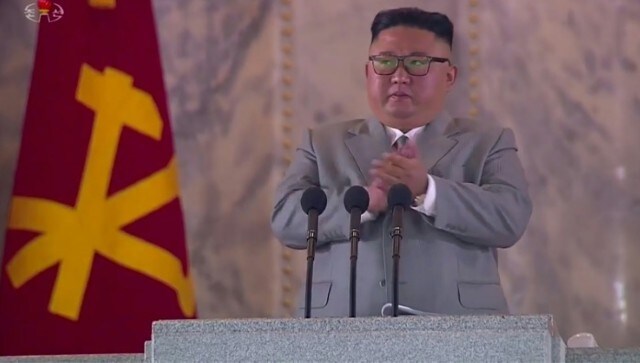 World
Kim also accused South Korea of hypocrisy because it criticises North Korea's weapons development as provocations while spending heavily to increase its own military capabilities
World
Their comments came as Iran has hinted it's ready to return to indirect negotiations with the US in Vienna but has not committed to a date
Sports
The victory by 1.33 seconds was Verstappen's eighth of the season at a track where Hamilton had won five times.