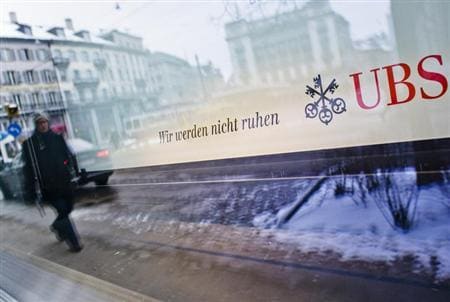 ZURICH (Reuters) - Swiss citizens were on track on Sunday to impose some of the world's strictest controls on executive pay, forcing public companies to give shareholders a binding vote on compensation, initial result projections showed.
A projection by polling institute Gfs.Bern for Swiss state television based on early results showed 70 percent backed plans to give shareholders a veto on executive compensation as well as banning big payouts for new and departing managers.
Support for the proposal was fired by anger over the big bonuses blamed for fuelling risky investments that nearly felled Swiss bank UBS (UBSN.VX), as well as outrage over a $78 million payment to outgoing Novartis (NOVN.VX) chairman Daniel Vasella.
Business lobby Economiesuisse has campaigned against the initiative, arguing it would damage the country's competitiveness and could scare away international talent.
But supporters of the proposals say the low taxes, stable politics and business-friendly laws that make Switzerland an attractive base for some of world's top firms mean an exodus is unlikely.
Companies look set to find ways around the new rules to reward executives, just as banks in Europe are looking at ways around a cap on bonuses for their top staff agreed by European politicians on Thursday. (Reporting by Emma Thomasson; Editing by Louise Ireland)
Updated Date: Mar 03, 2013 18:30 PM