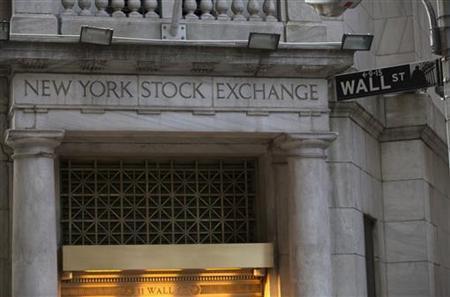 NEW YORK (Reuters) - World stocks slipped on Thursday after U.S. Senate Majority Leader Harry Reid said the United States may be poised to go off the "fiscal cliff," while the yen hit a two-year low on expectations of aggressive monetary stimulus.
Reid, a Democrat, criticized Republicans for refusing to go along with any tax increases as part of a U.S. budget remedy and said the economy seemed to be heading over the "fiscal cliff" of impending tax hikes and spending cuts.
Economists warn that the $600 billion in higher taxes and spending cuts set to kick in from January could push the world's largest economy into recession, dragging other countries with it.
In another session driven by headlines on the budget talks, all three major U.S. indexes fell more than 1 percent following Reid's comments. But they sharply cut losses in late-session trading as the U.S. House of Representatives set a work session for Sunday ahead of the December 31 deadline for reaching a deal.
On Wall Street, the Dow Jones industrial average was down 16.30 points, or 0.12 percent, at 13,098.29, well off its lows. The Standard & Poor's 500 Index was down 1.66 points, or 0.12 percent, at 1,418.17. The Nasdaq Composite Index was down 3.33 points, or 0.11 percent, at 2,986.83.
Shares of U.S. retailers fell for a second day following the Christmas holiday. The Morgan Stanley retail index .MVR was down 0.4 percent.
The MSCI global index was last down 0.1 percent, while European shares ended down 0.04 percent.
"Going over the 'cliff' is the surest way to get the tax increases and spending cuts that are the objective of politicians on both sides of the aisle," said Joseph Cangemi, managing director at ConvergEx Group in New York.
"This has been a giant theatrical event to accomplish what they had each set out to do."
President Barack Obama returned to Washington on Thursday, cutting short his holiday to try to get a budget deal with Republican lawmakers.
USEFUL LINKS:
Asset performance in 2012: link.reuters.com/muc46s
Fiscal cliff woes impact: link.reuters.com/num84t
U.S. consumer confidence: link.reuters.com/vaq84t
EURO DIPS, YEN SLUMPS
The dollar rose to 86.15 yen on Reuters data, its highest since mid-August 2010. It was last up 0.5 percent at 86.01 yen. Investors took out option barriers at 86 yen and stop-loss buy orders above 86.10.
The dollar rose to 85.92 yen, its highest since August 2010. It was last up 0.4 percent on the day at 85.91 yen with option barriers cited at 86 yen and stop-loss buy orders above 86.10 yen.
The dollar has risen 12 percent against the yen in 2012, on track for its biggest annual gain since 2005. Yen selling has accelerated in the past two months on speculation Japan's new Prime Minister Shinzo Abe will pursue policies to weaken the Japanese currency.
"Yen weakness, based on expectations that the new Japanese government will succeed in driving the dollar to 90 yen with a combination of more aggressive monetary and fiscal policy, is offering support to other currencies," said Marc Chandler, global head of currency strategy at Brown Brothers Harriman in New York.
The euro traded at $1.3216, down slightly for the day and below an eight-month high of $1.3308 hit last week.
The euro was little changed at $1.3221. The euro tends to benefit when U.S. budget negotiations run smoothly, but when there are snags, investor flows go to the safe-haven and highly liquid dollar.
U.S. BONDS TRADE HIGHER, OIL EASES
Prices on longer-dated U.S. Treasuries were higher. The bond market began trimming its decline earlier on data that showed a bigger-than-expected drop in American consumer confidence in December, spurring worries about flagging consumer spending causing a U.S. recession.
Benchmark 10-year Treasuries prices were 5/32 higher in price, yielding 1.7303 percent, compared with being down by 2/32 before the confidence data and Reid's remarks.
Brent crude futures ended down slightly as the unresolved U.S. budget talks left open the possibility that mandated tax hikes and spending cuts could be enacted, which could push the top oil-consuming economy into recession.
Brent February crude fell 27 cents, or 0.24 percent, to settle at $110.80 a barrel. U.S. February crude slipped 11 cents, or 0.12 percent, to settle at $90.87.
(Additional reporting by Gertrude Chavez-Dreyfuss, Robert Gibbons, Richard Leong and Edward Krudy in New York; Editing by Chizu Nomiyama and Dan Grebler)
Updated Date: Dec 28, 2012 02:45 AM