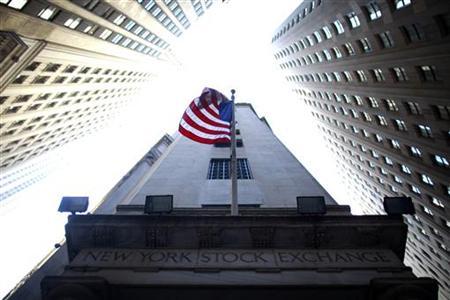 NEW YORK (Reuters) - U.S. equity markets slipped in thin trade o n Wednesday while crude oil rose after minutes from a Federal Reserve meeting in June showed policymakers are open to buying more bonds to stimulate the U.S. economy, but conditions might need to worsen.
The benchmark S&P 500 index retreated and the Dow and Nasdaq fell further after minutes suggested a majority of Fed policymakers at the June 19-20 meeting was not yet ready to take bolder action on the sluggish economy.
The dollar extended gains, hitting a fresh two-year high against the euro, but spot gold cut gains following the release of the Fed minutes.
"There were no additional indications for the course of future Federal Reserve policy in the minutes of last month's FOMC meeting," said Joseph Trevisani, chief market strategist at Worldwide Markets, Woodcliff Lake in New Jersey.
The Dow Jones industrial average .DJI was down 96.12 points, or 0.76 percent, at 12,557.00. The Standard & Poor's 500 Index .SPX was down 5.06 points, or 0.38 percent, at 1,336.41. The Nasdaq Composite Index .IXIC was down 28.65 points, or 0.99 percent, at 2,873.68.
The bond market did not react much to the minutes.
Brent crude oil, which fell more than 2 percent on Tuesday, was back above $99 a barrel after the Organization of the Petroleum Exporting Countries, which produces one-third of global oil, left its 2012 world oil demand growth forecast unchanged at 0.9 million barrels per day.
Traders were awaiting the release of U.S. inventory data that is expected to show crude stocks shrinking for a third week in the world's largest oil consumer.
Brent crude for August delivery rose $1.93 to $99.90 a barrel. U.S. crude was up $1.54 at $85.55 a barrel.
Spot gold prices rose $5.01 to $1,569.50 an ounce.
The Reuters/Jefferies CRB Index .CRB of 19 commodities was up 1.28 points at 289.92.
Earlier in Europe, equities steadied, with a weak start to the second-quarter reporting season from the autos and luxury sectors denting sentiment, though technical support levels put a lid on losses in thin and jittery summer trading.
The region's sluggish response to the euro zone debt crisis sent 10-year German bond yields to new lows.
The FTSEurofirst 300 index .FTEU3 of top European companies closed flat at 1,039.12.
The dollar rebounded and was up against a basket of major trading-partner currencies, with the U.S. Dollar Index .DXY up 0.17 percent at 83.541.
The euro was down 0.19 percent at $1.2226.
U.S. government debt prices were down as worries about the European debt crisis and a slowing U.S. economy pinned benchmark yields near 5-1/2 week lows ahead of an auction of 10-year notes.
The benchmark 10-year U.S. Treasury note fell 1/32 in price to yield 1.5048 percent.
Germany sold just over 4 billion euros of 10-year government bonds o n W ednesday at record low yields, with demand solid due to concerns that the recently agreed anti-crisis measures may not be powerful enough to overcome the euro zone debt crisis.
Yields on 10-year German debt in the secondary market were lower at 1.271 percent, off the average auction result of 1.31 percent.
Updated Date: Jul 12, 2012 01:00 AM