Stampede kills 19 pilgrims in Varanasi | Reuters
NEW DELHI At least 19 people died in a stampede in the ancient city of Varanasi on Saturday, officials said.Panic spread as hundreds of Hindu pilgrims tried to cross a bridge to a sacred site in one of the world's oldest inhabited cities, at the heart of the constituency of Prime Minister Narendra Modi.'Rumours about the bridge collapse led to chaos after a man fell down in a crowd,' said police officer Javeed Ahmad. Millions of Hindus come to Varanasi every year to pray and wash away their sins by taking a dip in the sacred river Ganges. Modi who was hosting the a meeting of BRICS nation in coastal city of Goa expressed his condolences to the victims' families and promised help
NEW DELHI At least 19 people died in a stampede in the ancient city of Varanasi on Saturday, officials said.Panic spread as hundreds of Hindu pilgrims tried to cross a bridge to a sacred site in one of the world's oldest inhabited cities, at the heart of the constituency of Prime Minister Narendra Modi."Rumours about the bridge collapse led to chaos after a man fell down in a crowd," said police officer Javeed Ahmad.
Millions of Hindus come to Varanasi every year to pray and wash away their sins by taking a dip in the sacred river Ganges.
Modi who was hosting the a meeting of BRICS nation in coastal city of Goa expressed his condolences to the victims' families and promised help.
(Reporting by Rupam Jain; Editing by Andrew Heavens)
This story has not been edited by Firstpost staff and is generated by auto-feed.
News & Analysis
According to Facebook, parents can help by repeatedly talking to their teens about the difference between appearance and reality.
World
Their official meeting or reunion took place on Monday (13 September) in Texas, but the two had earlier met at the border last week. They met each other after communicating on social media.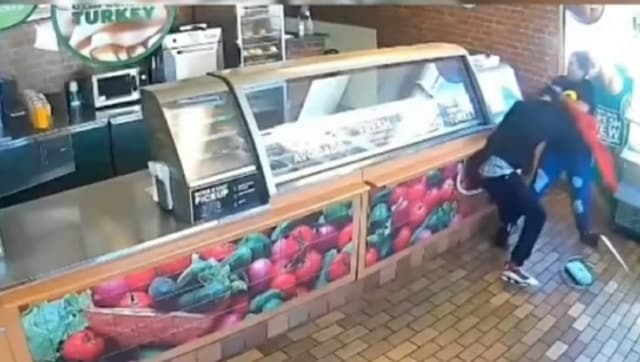 World
The video, captured on 5 September, shows Sotelo fighting off an armed robber, hitting him repeatedly with his own gun.