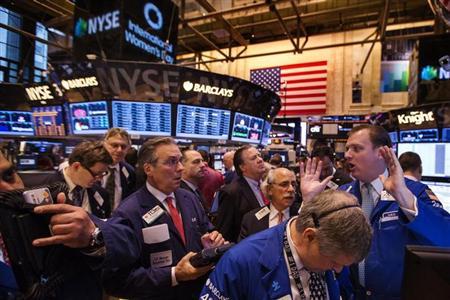 NEW YORK (Reuters) - Wall Street advanced modestly on Friday on a much stronger-than-expected payrolls report, sending the Dow to yet another record intraday high and putting the S&P 500 on track for its biggest weekly gain since the first week of the year.
The S&P 500 has risen to a level about 2 percent away from an all-time intraday high, as investors have seized the opportunity to buy on dips.
But gains were curbed by a decline in some bank shares in the wake of the Federal Reserve's "stress tests" results.
Hiring in the United States jumped in February with non-farm payrolls adding 236,000 last month, easily beating expectations for a gain of 160,000 jobs. The unemployment rate fell to 7.7 percent, the lowest since December 2008.
"We have already coined this year's expected trend as being 'the year of payroll growth' and so far, we feel that the data is living up to such expectations," said Andrew Wilkinson, chief economic strategist at Miller Tabak & Co in New York.
But gains were limited by a retreat in some financial stocks after the Federal Reserve's stress test results. The Fed, as expected, said that the biggest U.S. banks have enough capital to withstand a severe economic downturn.
The S&P financial sector index, which had climbed more than 3 percent for the month, was flat in afternoon trade. The index was up 0.1 percent after falling about 0.3 percent earlier in Friday's session.
JPMorgan Chase & Co(JPM.N) shares slid 1.2 percent to $50.04.
"The banks have been leading for a while. The banks, as a group, are up sharply. Yesterday they were up big in anticipation of those stress tests last night," said Ken Polcari, director of the NYSE floor division at O'Neil Securities in New York.
"The move already came, that is what people were expecting, so now these investors are deciding to take some profits."
Still, investors were mindful of the possibility of a bigger pullback after the steady gains this year. The last correction for the benchmark S&P 500 index was nearly a year ago - a 9.9 percent slide from April highs to the start of June.
The Dow Jones industrial average was up 52.97 points, or 0.37 percent, at 14,382.46. The Standard & Poor's 500 Index was up 5.07 points, or 0.33 percent, at 1,549.33. The Nasdaq Composite Index was up 8.63 points, or 0.27 percent, at 3,240.72.
Earlier in the session, the Dow climbed as high as 14,413.17 - a fresh intraday record.
Wholesale inventories added to the stream of positive economic data. In January, U.S. wholesale inventories increased 1.2 percent to $504.4 billion - the fastest pace of growth since December 2011. The strong January reading followed a revised 0.1 percent rise in December 2012.
McDonald's Corp (MCD.N) gained 1.6 percent to $98.59 and gave the biggest boost to the Dow after the fast-food hamburger chain said February sales at established restaurants fell just 1.5 percent, a little better than expected.
Pandora Media (P.N) shares jumped 19.4 percent to $14 on stronger-than-expected quarterly results. The company, the leader in Internet-streaming radio, also made the surprising announcement that CEO Joseph Kennedy is stepping down.
Skullcandy Inc (SKUL.O) shares plunged nearly 22 percent to $5.26 after the headphone maker said it expects to post a loss in the current quarter, even though fourth-quarter revenue was higher than expected.
(Reporting by Angela Moon; Editing by Jan Paschal)
Updated Date: Mar 09, 2013 01:45 AM