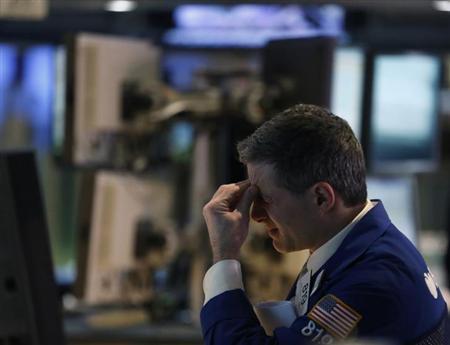 NEW YORK (Reuters) - U.S. stocks ended their worst week this year with losses on Friday after a weaker-than-expected jobs report undermined confidence in the economy and first-quarter earnings growth.
The jobs data, which showed employers hired at the slowest pace in nine months, was the latest in a series of disappointing economic reports.
Companies begin to report quarterly earnings next week, which is likely to be another concern for investors in light of recent economic data. Analysts' estimates for earnings growth in the first quarter have fallen since late last year, according to Thomson Reuters data.
"I think earnings season could be less than stellar again. Given market performance to date, we could see some softness in the market because we've generated some healthy returns already," said Natalie Trunow, chief investment officer of equities at Calvert Investment Management, which has about $13 billion in assets.
Stocks had been rallying on the Fed's promise to keep providing stimulus and on mostly improving U.S. economic data. The S&P 500 is up 8.9 percent since the start of the year.
The S&P 500 was down 1 percent for the week. All but three of the S&P 500's 10 industry sectors posted declines.
The government's job report showed 88,000 jobs were added in March, less than half economists' average forecast of 200,000. The unemployment rate dipped to 7.6 percent from 7.7 percent, largely due to people dropping out of the work force.
Among recent weak data, a report Monday showed U.S. factory activity grew at the slowest rate in three months in March.
The S&P's biggest percentage decliner was network gear maker F5 Networks Inc (FFIV.O), which dropped 19 percent to $73.21 a day after forecasting quarterly earnings and revenue well below Wall Street's expectations.
The Dow Jones industrial average was down 40.86 points, or 0.28 percent, at 14,565.25. The Standard & Poor's 500 Index was down 6.70 points, or 0.43 percent, at 1,553.28. The Nasdaq Composite Index was down 21.12 points, or 0.66 percent, at 3,203.86.
For the week, the Dow declined 0.1 percent while the Nasdaq dropped 1.9 percent. The Russell 2000 index fell 3 percent for the week, its worst weekly decline since June.
Several of F5's competitors were also sharply lower, with Juniper Networks (JNPR.N) off 3.1 percent at $17.55 and Citrix Systems (CTXS.O) down 1.2 percent at $68.90.
Airline stocks were hit after J.P Morgan Securities cut its revenue expectations for U.S. airlines by 2 percent to 3 percent for 2013 and 2014 and said it expects monthly revenue per available seat mile to turn negative for some airlines, partly due to the federal government's automatic spending cuts.
Delta Airlines Inc (DAL.N) fell 2.4 percent to $14.39 and United Continental Holdings (UAL.N) was off 0.1 percent at
$29.27.
S&P 500 earnings are expected to have risen just 1.6 percent in the first quarter from a year ago, according to Thomson Reuters data, down from a 4.3 percent forecast in January.
Earnings grew 6.3 percent in the fourth-quarter, which was better than a late projection by analysts.
Volume was roughly 6.4 billion shares traded on the New York Stock Exchange, the Nasdaq and the NYSE MKT, compared with the average daily closing volume of about 6.36 billion this year.
Decliners outpaced advancers on the NYSE by about 15 to 14 and on the Nasdaq by roughly 5 to 3.
(Reporting by Caroline Valetkevitch; Editing by Nick Zieminski and Kenneth Barry)
Updated Date: Apr 06, 2013 23:45 PM