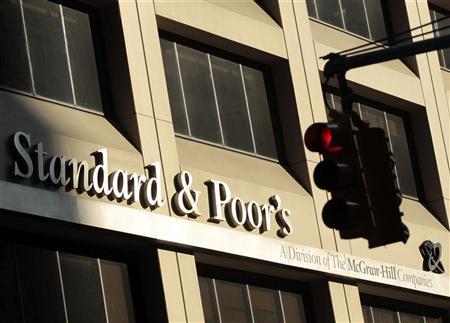 REUTERS - The parent of credit ratings agency Standard & Poor's Corp, which was hit with a $5 billion fraud lawsuit by the U.S. government last week, fired back on Tuesday, saying it doesn't believe the government has a case.
McGraw-Hill Cos Inc (MHP.N) said S&P has a record of successfully defending itself against suits like the one by the U.S. Department of Justice that accuses it of duping investors by presenting its ratings as objective.
"The company does not believe the Department of Justice can prove that this failure -- common to nearly everyone at the time -- was the product of intentional misconduct by anyone at S&P," McGraw-Hill said in a statement accompanying its fourth-quarter results.
McGraw-Hill General Counsel Kenneth Vittor said the suit provided specifics on only about $500 million of losses suffered by federally insured institutions, while seeking $5 billion in penalties.
S&P earned less than $15 million from the collateralized debt obligations (CDOs) named in the complaint, Vittor said in a conference call with analysts and investors.
Vittor said the complaint also ignored the fact that all the CDOs that it identified in the case had received a virtually identical rating from at least one other credit rating agency.
CDOs are bundles of debt securities based on assets such as mortgages. Leading up to the financial crisis, many of the mortgage-backed assets included in CDOs consisted of subprime loans that later soured.
S&P rival Moody's Corp (MCO.N) is also expected to be targeted in a Federal government lawsuit over the agency's pre-crisis debt ratings.
McGraw-Hill, which is also being sued by a number of states including Connecticut and California, said it was open to discussing reasonable settlements.
Shares of the company, which have lost nearly a quarter of their value since the government launched the suit, were flat at $44.29 in midday trade on the New York Stock Exchange.
PRESSURE ON LEGAL COSTS
McGraw-Hill, which said S&P has beaten 41 cases related to its ratings, does not specifically disclose legal expenses but Chief Financial Officer Jack Callahan said legal costs were "not insignificant" in 2012 and could increase this year.
"I think we would like to believe at this point in time that we can manage it," Callahan said on the conference call.
S&P has hired John Keker, one of the country's top white-collar defense attorneys, to fight the lawsuit.
The combative Keker won credit from legal experts in 2006 when Andrew Fastow, considered the mastermind of the Enron fraud, was sentenced to only six years in prison.
McGraw-Hill's fourth-quarter profit from continuing operations jumped 76 percent, helped by a surge in debt issuance. Income from continuing operations rose to $190 million, or 67 cents per share, from $113 million, or 37 cents per share, a year earlier.
Revenue rose 22 percent to $1.23 billion.
Adjusted earnings per share from continuing operations amounted to 75 cents per share, compared with the average analyst estimate of 72 cents, according to Thomson Reuters I/B/E/S.
McGraw-Hill posted a net loss of $216 million during the quarter, including one-time costs related to the sale of its education unit to Apollo Global Management LLC (APO.N) in November.
The company said in November it would take a non-cash impairment charge of about $450 million to $550 million in the fourth quarter to mark down the value of the unit.
It said on Tuesday it expected 2013 adjusted earnings of $3.10 to $3.20 per share for McGraw Hill Financial, which includes S&P. It said it expects high-single digit percentage growth in revenue for the unit this year.
"The results and outlook were outstanding," Benchmark Co analyst Edward Atorino said. "McGraw Hill is in a great fundamental position. We'll see if the Justice Department's case can stick but that will take a couple of years."
(Reporting by Aman Shah and Jochelle Mendonca in Bangalore; Editing by Sreejiraj Eluvangal, Saumyadeb Chakrabarty and Ted Kerr)
Updated Date: Feb 13, 2013 00:30 AM