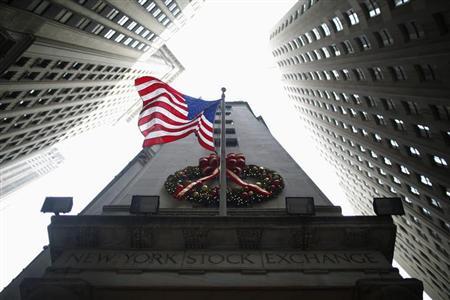 NEW YORK (Reuters) - World equity markets rallied and the dollar strengthened on Friday after an unexpectedly sharp jump in U.S. employment in February added to investor sentiment that the world's biggest economy is gaining traction.
Wall Street pushed the Dow index to a fourth consecutive intraday record high, while European shares extended their gains to a session high on the increase in hiring, which pushed the U.S. unemployment rate to a four-year low of 7.7 percent.
The dollar touched a 3-1/2-year high against the yen and a three-month peak against the euro, while U.S. Treasuries sank on the payrolls report.
Nonfarm payrolls surged by 236,000 jobs in February, the Labor Department said, handily beating economists' expectations for a gain of 160,000.
"The U.S. economy just hit it out of the park. The February non-farm payrolls data was expected to show the economy moving forward slowly but surely, not fast-forward like this," said Jason Conibear, trading director at forex specialists Cambridge Mercantile in Toronto.
U.S. stocks pared early gains, led by a decline in JPMorgan Chase, Bank of America and Goldman Sachs & Co. The banks had advanced recently in anticipation of the Federal Reserve's stress test results that showed they had enough capital to withstand a severe economic downturn.
"That is what people were expecting, so now these investors are deciding to take some profits, and that's what is happening," said Ken Polcari, director of the NYSE floor division at O'Neil Securities in New York.
The February report showed a labor market that continues to move sideways at a frustratingly slow trend for the Fed, said Ellen Zentner, senior U.S. economist at Nomura Securities in New York.
"This is not a report that is going to inspire any kind of change in monetary policy, it is certainly not going to inspire any kind of discussion around this stellar job report that makes them decide to end QE earlier than expected," Zentner said.
The Dow Jones industrial average was up 41.58 points, or 0.29 percent, at 14,371.07. The Standard & Poor's 500 Index was up 3.54 points, or 0.23 percent, at 1,547.80. The Nasdaq Composite Index was up 7.74 points, or 0.24 percent, at 3,239.83.
In Europe, the FTSEurofirst 300 index of top regional shares was up 0.8 percent at 1,194.52.
Earlier, MSCI's all-country world equity index rose to its highest level since late June 2008, and Japan's Nikkei hit a 4-1/2 year high in Asian trading.
U.S. Treasuries also pared some early losses as Wall Street retreated a bit. Yields have pushed steadily higher this week as early data pointed to a bigger rise in payrolls than previously expected and thus a swifter healing of the labor market.
Prices for benchmark 10-year notes dropped 18/32 after the data to yield 2.0558 percent.
The euro fell against the dollar, erasing gains from Thursday, when European Central Bank President Mario Draghi gave less-dovish policy signals than expected.
The euro fell 0.9 percent to $1.2986.
Against the yen the dollar climbed as high as 96.54 yen, the highest since August 2009. It was last at 96.15 yen, up 1.4 percent in its biggest one-day gain since February 11.
Brent crude oil futures fell below $110 a barrel, pressured by a stronger dollar after the U.S. jobs report, higher-than-expected supply from the North Sea and OPEC, and investors selling out of commodities in favor of equities.
Brent futures were down $1.25 to $109.90 a barrel. Brent is down for the fourth consecutive week, its longest weekly losing streak since May 2012.
U.S. oil was down 45 cents to $91.11.
(Addional reporting by Marc Jones and Richard Hubbard in London; Editing by Chizu Nomiyama and Dan Grebler)
Updated Date: Mar 09, 2013 01:00 AM