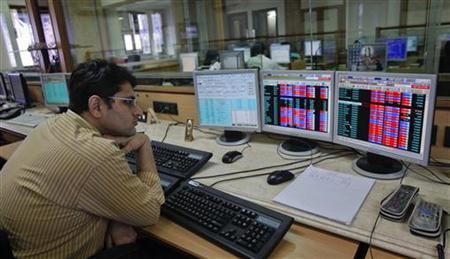 MUMBAI (Reuters) - The BSE Sensex posted its biggest daily fall this month on Thursday as worries the government would backtrack on big ticket reforms hit retailers and lenders after the Trinamool Congress withdrew its support of the ruling coalition.
Trinamool's departure over its opposition to the recent hike in fuel prices and the action to open the supermarket sector to foreign investments left the government with a minority in Parliament.
Fears the government would roll back some of the measures rose as a result, especially as India was hit by a national strike over the reforms on Thursday.
Stock had surged 2.9 percent over Friday and Monday to their highest in 14 months following the back-to-back policy announcements from the government, while foreign investors had pumped in 62.62 billion rupees in net inflows over the previous three sessions.
"It is imperative for the government to go through reforms. In fact market is expecting more reforms in coming days," said K. R. Bharat, managing director at Advent Advisors.
"I think the government would last, although a lot of political posturing would be done by various parties. Market may remain jittery for a while as it sees through the political posturing, before making further move on the upside,".
The Sensex fell 0.79 percent, or 146.76 points, to 18,349.25 points, marking its biggest daily percentage fall since August 29 and its second consecutive losing session.
The 50-share Nifty declined 0.82 percent, or 45.80 points, to end at 5,554.25 points.
Still, the government is expected to stand its ground despite the loss of Trinamool's support, although Congress Party sources told Reuters a partial reduction in diesel prices was being considered.
Retail stocks fell nonetheless retreating some after the sector surged when the government allowed foreign direct investment into the multi-brand retail sector.
Pantaloon Retail fell as much as 10.5 percent at one point, before ending the day down 2.9 percent. The retailer is partly owned by Future Group, which operates the Big Bazaar hypermarket chain, and had surged 27.3 percent on Friday and Monday.
Trent (TREN.NS) fell 3.4 percent.
Banks fell as any signs of rollback on fiscal reforms could dent expectations for interest rate cuts from the Reserve Bank of India.
The RBI has implied the government would need to take fiscal measures before considering lowering the key lending rate.
ICICI Bank (ICBK.NS) fell 2.5 percent, though shares are still up 13.3 percent for the month, while State Bank of India (SBI.NS) fell 1.2 percent.
Reliance Industries (RELI.NS) fell 2.7 percent, hit for a second session by profit-taking, following the powerful rally seen after the Federal Reserve announced a new asset purchase programme.
The stock was also weighed down after Kotak Institutional Equities downgraded Reliance to "sell" from "reduce", saying the recent run-up in shares was not justified by fundamentals or the outlook for refining margins.
Suzlon Energy (SUZL.NS) fell 3.8 percent after the wind turbine maker said on Tuesday it plans to extend the maturity of convertible bonds due in October by four months, looking for more time to raise funds to meet the redemptions.
However, state-owned oil stocks rose, despite the possibility of a rollback in diesel prices, as oil prices slumped after Saudi Arabia said earlier this week it would take steps to moderate oil prices.
Bharat Petroleum Corp (BPCL.NS) gained 2.3 percent, while Hindustan Petroleum Corp (HPCL.NS) rose 3.6 percent.
Updated Date: Sep 20, 2012 23:00 PM