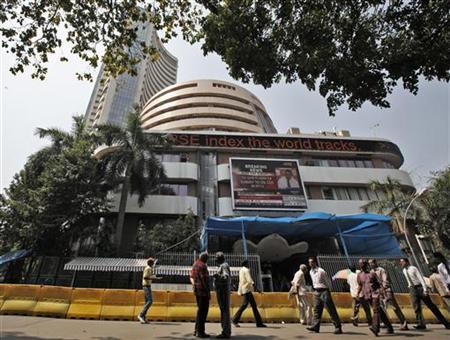 MUMBAI (Reuters) - The BSE Sensex fell on Tuesday, snapping three sessions of gains, as the rupee dropped to a new record low while global risk aversion also weighed on sentiment after Fitch downgraded Japan's sovereign ratings.
Recent outperformers such as banks were hit hard, with State Bank of India leading decliners, while defensive stocks such as cigarette maker ITC (ITC.NS) continued to back away from earlier record highs.
The weak rupee is not only reflecting the weak global markets, but also the worsening fundamentals of the Indian economy, which is sparking fears of foreign investor outflows.
Foreign institutional investors have been net sellers of 2.6 billion rupees over the previous two sessions, according to regulatory data, though they remain net buyers of about 1.5 billion rupees so far in May.
"Rupee fall indicates that FIIs are in sell mode. Global risk aversion is an overhang for a while and therefore I expect markets should remain weak," said Hitash Dang, vice president at Jaypee Capital, adding he expects the Nifty to drift to 4,650-4,700 till the expiration of May derivatives contracts
The BSE Sensex ended down 1 percent at 16,026.41 points, erasing the entire gain of 0.95 percent it had clocked over previous three sessions.
The Nifty fell 0.93 percent to 4860.50 points.
Losses accelerated in the afternoon after Fitch Ratings downgraded Japan's sovereign ratings as a political stalemate dims the chance the country can curb its snowballing debt.
The rupee also extended its falls in the afternoon, hitting a record low of 55.47 per dollar, its fifth consecutive daily low.
State Bank of India fell 3.5 percent after gaining almost 10 percent over the previous three sessions, in large part due to well-received quarterly results.
Private lender ICICI Bank (ICBK.NS) fell 1.3 percent.
Defensive stocks also extended recent falls. ITC (ITC.NS) fell 0.9 percent, and has now fallen 8 percent since hitting a record high on April 9.
Sun Pharmaceuticals (SUN.NS) also succumbed to profit-taking, falling 3.5 percent after hitting its all-time high on May 8.
Tata Power (TTPW.NS) shares dropped 5.5 percent ahead of its quarterly results later in the day as traders braced for negative numbers. The stock had surged 5 percent on Monday because of tariff hike hopes.
However, investors also picked up recently beaten stocks. Tata Motors (TAMO.NS) added 1.2 percent as some investors saw the stock as oversold, dealers said.
Tata Motor's shares have fallen 17.3 percent this month as of Monday's close versus a 12 percent fall in the NSE auto index.
(Additional reporting by Manoj Dharra; Editing by Rafael Nam)
Updated Date: May 22, 2012 23:46 PM