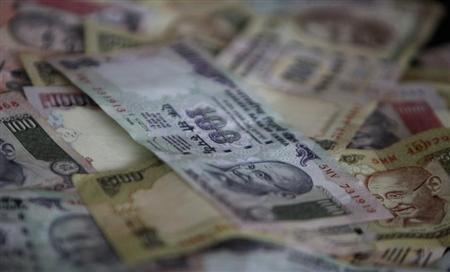 MUMBAI (Reuters) - The rupee recovered from a more than 8-1/2 month low hit earlier on Thursday, as exporters took advantage of a spike in the dollar to sell the greenback and on fears the central bank would intervene to stabilise the local currency.
The rupee still posted a fifth day of falls to mark its longest losing streak in over three months as worries about a potential pullback in the U.S. monetary stimulus programme and a weak manufacturing survey in China sparked a shift sway from riskier currencies.
Any pullback on U.S. quantitative easing has the potential to hit Indian markets hard. Foreign investors have bought more than $5 billion of debt and stocks this month, marking a surge in inflows from previous months.
Finance Minister P. Chidambaram tried to assuage investor sentiment, stating that U.S. Federal Reserve Chairman Ben Bernanke's statements have been 'misunderstood or misinterpreted.
"The rupee was caught in the eye of the storm between Bernanke and Chinese PMI. The market recovered realising the fears were overdone. Expectation of large flows starting next week and exporter selling around 56 levels capped the losses," said Satyajit Kanjilal, chief executive at ForexServe.
The currency breached the key psychological level of 56 to fall as low as 56.01 per dollar on Thursday, a level last seen on September 6, 2012. It closed at 55.59/60 versus its close at 55.46/47 on Wednesday.
The Reserve Bank of India was not seen intervening to bolster the rupee despite the sharp falls, traders said. The central bank instead bought dollars for a net total of $820 million in March, with talk of subsequent purchases in April.
The rupee's falls came after Federal Reserve chief Ben Bernanke said a decision to scale back bond purchases could come at one of the central bank's "next few meetings" if the economy looked set to maintain momentum.
Investors were also spooked after a preliminary China HSBC factory survey showed activity shrank for the first time in seven months in May.
The two factors sent Nifty down over 2 percent to post its biggest percentage fall in a year on concerns foreign investors would end their recent buying spree.
Despite these foreign inflows, the rupee has lost some 3.2 percent this month, after a surge in gold imports led to a surprisingly wide trade deficit in April, sparking concerns about current account deficit.
Some analysts have expressed surprise at the pace of the rupee's fall, and expect the domestic currency to remain under pressure given the dollar rally and the economic concerns at home, especially after Standard & Poor's reiterated its "negative" outlook on India this month.
The rupee has "struggled in a more acute manner than we have thought it should have done," HSBC said in a note on Thursday.
In the offshore non-deliverable forwards, the one-month contract was at 55.96 while the three-month was at 56.50.
In the currency futures market, the most-traded near-month dollar/rupee contracts on the National Stock Exchange, the MCX-SX and the United Stock Exchange all closed at around 55.6125 with a total traded volume of $8.2 billion.
(Reporting by Subhadip Sircar; Editing by Sunil Nair)
Updated Date: May 24, 2013 03:15 AM