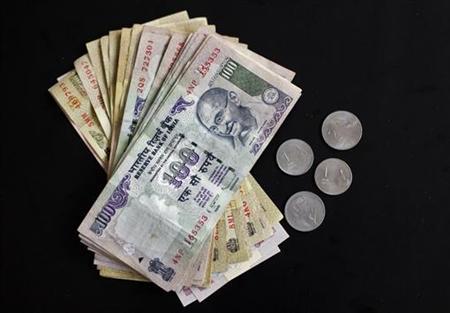 MUMBAI (Reuters) - The rupee rose on Thursday tracking continued gains in Asian emerging currencies and other risk assets, but an unexpected slump in domestic industrial output capped gains by reinforcing concerns about domestic growth.
Data released showed factory output contracted 1.8 percent in June, adding to pressure on new Finance Minister Palaniappan Chidambaram to move quickly with fiscal reforms or other measures to attract foreign investment.
The data comes on the back of several brokerage downgrades on India's economic growth, including from Citigroup. Private economists have now pegged back their 2012/13 GDP forecast to about 5.5 percent, below the central bank's most recent outlook of 6.5 percent.
Moses Harding, head of asset-liability management at IndusInd Bank, however, said the general weakness in the global dollar will help support the rupee.
"IIP print was not a surprise; data was expected to be weak. As of now, weak USD against major currencies and mild bullish undertone on domestic stock market will support rupee," said Harding.
He expects the rupee to trade in a 54.95-55.45 range in the near term.
The partially convertible rupee closed at 55.27/28 per dollar as per the SBI closing rate versus its previous close of 55.42/43. It fell to as low 55.0450 in early trades.
To sustain gains in the rupee, the government would need to show concrete action to pare down a fiscal deficit projected at 5.1 percent for the fiscal year ending in March 2013, or open up key sectors such as retail or aviation, traders said.
The one-month offshore non-deliverable forward contracts were at 55. 5 5, while the three-month was at 56. 2 2.
In the currency futures market, the most-traded near-month dollar/rupee contracts on the National Stock Exchange, the MCX-SX and the United Stock Exchange all closed at around 55.42 with the total traded volume at around $4.2 billion.
(Editing by Rafael Nam)
Updated Date: Aug 09, 2012 23:15 PM