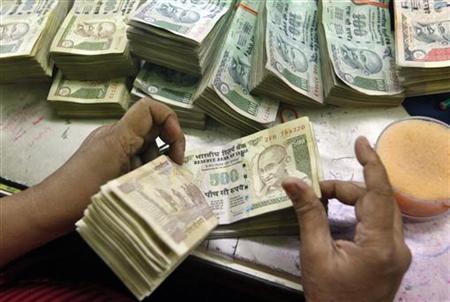 MUMBAI (Reuters) - The rupee rose for a second successive session on Friday as local shares rallied in line with overnight gains in risk assets after the European Central Bank vowed to protect the euro zone.
The common currency however gave up some gains as markets, hungry for detail on any ECB plan to repel a debt attack on Spain and Italy, grew cautious after Germany's Bundesbank restated its doubts about buying bonds of troubled euro zone nations.
Shares closed 1.2 percent higher, though off highs, after being pulled down by tepid European markets.
"It will be a mixed bag for the rupee tracking both the global cues and any developments on the domestic front. I however do not see any big bang on the reform front in the near term," said Hemal Doshi, currency strategist at Geojit Comtrade.
The partially convertible rupee closed at 55.33/34 per dollar, as per the SBI closing rate, as against its close of 55.52/53 on Thursday.
Even as the rupee closely tracks the fortunes of the euro, dealers are gearing up for the Reserve Bank of India's monetary policy review on Tuesday.
The RBI is expected to hold its policy interest rate steady at its quarterly review next week, keeping pressure on the government to reduce a ballooning fiscal deficit and take steps to remove bottlenecks that are driving up food prices.
A surprise rate cut may spur a rally in stocks, which the rupee may mirror, they said.
"If there is a 25 basis points cut, the rupee may see some appreciation towards 54.80, where it faces a critical resistance. If it breaks that, it may gain more," said Doshi.
Still, the rupee ended flat on the week, with investors increasingly wary of the government's motive to push through reforms.
Three-month offshore non-deliverable forward contracts were trading at 56.28, while the one-month contract was around 55.63.
In the currency futures market, the most-traded near-month dollar-rupee contracts on the National Stock Exchange, the MCX-SX and United Stock Exchange all closed at around 55.5775, with the total traded volume at around $4 billion.
(Editing by Sunil Nair)
Updated Date: Jul 27, 2012 23:30 PM