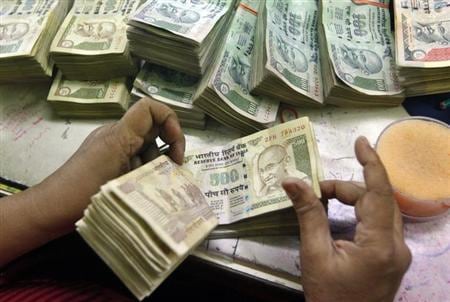 MUMBAI (Reuters) - The rupee fell to a one-week low on Monday as tumbling commodity prices hit global risk currencies, but pared losses after lower-than-expected inflation data raised hopes the Reserve Bank of India would cut interest rates next month.
India's headline inflation slowed to the lowest rate in more than three years in March, hardening expectations the Reserve Bank of India would cut interest rates on May 3 for the third time this year.
The data came as Finance Minister P. Chidambaram begins a series of road shows to woo investors in North America. India needs capital inflows to narrow a current account deficit that hit a record high in the October-December quarter.
"For rest of the week the range will be 54.20 to 54.90 as there are no major factors domestically. But we need to see how commodity markets especially gold and oil behave," said Uday Bhatt, a foreign exchange dealer with UCO Bank.
The partially convertible rupee closed at 54.6250/6350 per dollar, 0.2 percent weaker than its close of 54.52/53 on Friday. The rupee dropped to as low as 54.7950 in early trade, its weakest since April 8.
The rupee tracked tumbling risk currencies as weaker-than-expected Chinese growth data added to concerns raised by U.S. numbers about the global economic outlook.
Gold dropped as much as 6.3 percent on Monday to below $1,400 per ounce for the first time since March 2011 as the market's downward momentum gained speed after more than four months of investor selling.
Still, lower commodity and metals prices - if sustained - would help ease pressure on the current account deficit, which has been a key factor weighing down on the rupee.
The current account deficit has also been cited by the RBI as a factor in monetary policy decisions.
Expectations of potential rate cuts got a boost after data on Monday showed wholesale price inflation at 5.96 percent in March, lower than 6.84 percent in February.
Rate cuts could support the rupee by shoring up confidence in economic growth and sparking potential gains in equity markets.
In the offshore non-deliverable forwards, the one-month contract was at 54.90 while three-month was at 55.52.
In the currency futures market, the most-traded near-month dollar/rupee contracts on the National Stock Exchange, the MCX-SX and the United Stock Exchange all closed at around 54.70 with a total traded volume of around $5.9 billion.
(Editing by Subhranshu Sahu)
Updated Date: Apr 16, 2013 02:00 AM